My Career Path: Interview with Tejas Vashi, Global Leader of AWS re/Start Program, AWS
September 21, 2023
Posted by:

Selen Warner

Category:

Blog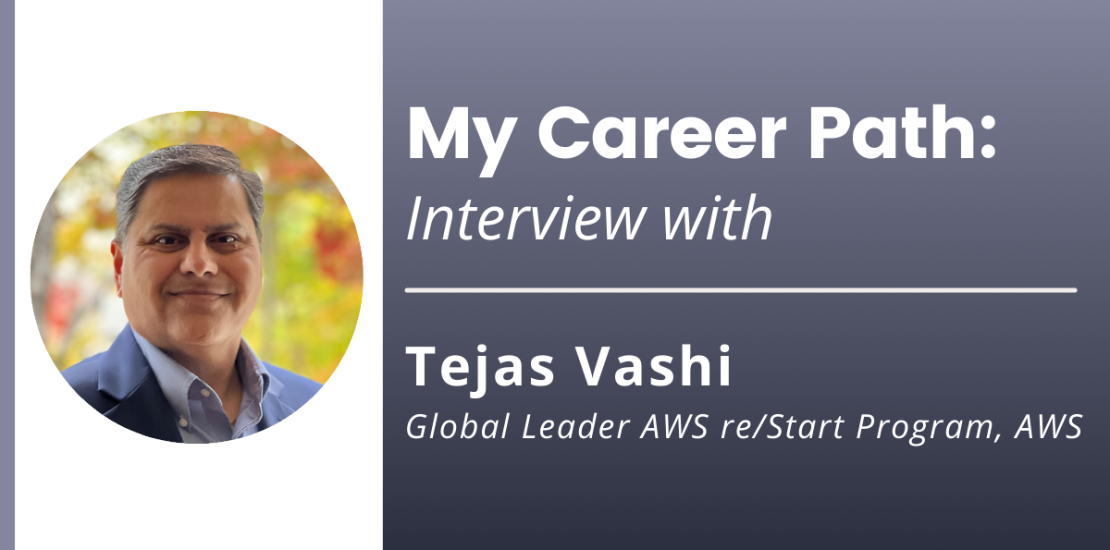 This month, we had the pleasure of speaking with Tejas Vashi, Global Leader, AWS re/Start Program, Amazon Web Services (AWS), about his career path and the decisions that have contributed to his success. Here at Stage 4 Solutions, we are committed to supporting professionals' career growth, and we believe that one way to enable success is by learning from leaders.
Tejas Vashi is a global product management and marketing executive as well as an industry thought leader with an extensive history of driving product strategy definition, innovative business model creation, strategic partnership development and highly effective marketing execution to dramatically increase business value for the company, partners, and our customers.
Tejas is an advocate for learning and its critical impact on business transformation. As a 30-year technology industry veteran and innovator, he has seen firsthand the effect that technology can have in driving business growth and is considered a thought leader in skills development and talent as they apply to business transformation. He believes education is essential to activate new technologies and has built digital learning portfolios, virtual lab delivery businesses, certification programs and skills campaigns that generate recurring success in today's digitized world. In his current role as the Global Leader of the AWS re/Start program, Tejas is responsible for launching, scaling and managing a global effort focused on developing future cloud talent, building AWS skills in traditionally under-represented populations, and connecting them to opportunities.
Tejas holds a Bachelor of Science in Electrical Engineering from Drexel University and a Master of Business Administration from Temple University in Philadelphia, PA.
Feel free to connect with Tejas: LinkedIn
Can you tell us about your upbringing? Who are your role models?
Tejas: I grew up about 25 miles outside of Philadelphia, PA in a suburban area where everybody got along really well. My role models were, like most -boys, sports heroes. I grew up following the Philadelphia Eagles and the Philadelphia Phillies. Even to this day, I am a big fan of the Philadelphia professional sports teams. I followed quarterbacks like Randall Cunningham, Ron Jaworski and other players like Harold Carmichael, one of the best receivers and Wilbert Montgomery. The list goes on. It was from watching them that I learned the criticality of teamwork and putting aside individual needs for gain overall success.
When you were at Drexel University, what were your career inspirations?
Tejas: Drexel University offered a 5-year electrical engineering program. The second, third and fourth years were called sophomore, pre-junior, and junior years. They had a unique process where we attended school for 6 months and worked a co-op for 6 months, which was a paid position. During these co-ops, I felt like a vagabond, moving from one role to another but as I reflect back it was one of the best experiences I had. Over those 3 years, I worked at 3 different companies and each role I had was tied to electrical engineering. In my second year, which was the first co-op, I worked as a test technician in the testing department of a microelectronics company. It was a very interesting experience – wearing lab coats, using microscopes and looking at tiny microelectronics circuits, testing out for voltage ratios.
During my second co-op, I was an associate engineer in the design team at a cable company called General Instrument. This company was a major player in set-top boxes and equipment for transmission lines that you often see hanging off of telecom poles today. In this role, I got the chance to design bandpass filters. It was a great learning experience from a design perspective.
In my junior year, I worked as a quality engineer at a defense contractor. My work involved testing parts that were used in the AH-64 Apache helicopter and working on the control panels of the A-10, a plane equipped with 35mm Gatling guns. It was another great experience in a different part of the industry. I didn't know what I wanted to do at that time but I did have the experience, background and understanding of a vast part of the industry and varying roles
What factors influenced your decision to pursue an MBA Degree?
Tejas: The influence was really the industry situation in the market at engineering school graduation time. When I was in my third and fourth years at Drexel, the industry demand for engineers was very high. Several folks within my graduating batch were offered jobs on the spot and went to work for those companies full-time without completing school, and their employers offered to pay for the rest of their engineering school education as part-time, evening school students over the next years. But for those of us who went through the full 5-year program and did not accept a job offer, faced a very difficult time when we graduated. Due to the decline in the industry, there were no jobs to be found for new, entry-level engineers. Instead of wasting time on endless resume submissions, I chose a different path and started taking classes at Drexel University. Then those credits were easily transferred to Temple University where I pursued my MBA. I worked really hard to complete the MBA very quickly, in almost 18 months and then I went looking for a job.
How did you decide on your first professional job?
Tejas: It was very interesting. While I was at Temple University, I worked in the resource center, which was essentially a computer lab. During that time, while pursuing my MBA, I worked there part-time to help pay for tuition and other expenses. I worked with the team to improve their entire data structure. Networking was very new at that point. We used Novel Netware and Cabletron devices to interconnect all the PCs, which was relatively new. But it was possible in the resource center, a cutting-edge learning lab.
After graduating, I went to Silicon Valley where I had relatives and stayed with them while job hunting. During that time, I attended an electronics trade show and stopped by the Cabletron booth. The employee at the booth walked up and said, "Can I help you?" I said, "Oh no, I am pretty familiar with the TPT-4s," which are Twisted Pair Transceivers with 4 wires. And the person I was speaking with was shocked because they were a relatively new company and said, "You know our products, right?" I happened to have experience installing them over the previous 18 months so I was called in for an interview and got hired in Silicon Valley. Then, I attended a 4-week training at their corporate headquarters in New Hampshire and then spent 6-7 months in Silicon Valley and got a promotion to work on competitive analysis in New Hampshire. But within 8 months, I got the opportunity to go and open up Cabletron offices overseas for 9 months – I opened up 3 offices in the SAARC region, covering 7 countries in Asia that did not have Cabletron presence at that time. It all started unexpectedly, being in the right place at the right time.
As you progressed through your career, how did you assess new opportunities?
Tejas: I think it was a mindset shift for me. In my earlier days, it was more about what was in it for me – if I took a role, would there be a salary increase, a better job opportunity, or a promotion tied to that role. So, everything I did, whether moving from a startup to an established company, or the other way around (because I have done both in my career), was all about what was in it for me.
As I matured through the years, my focus shifted more towards the impact I could drive. If you focus too much on monetary gains or personal growth aspects, you will only get so far. What I have seen is that success is really driven when you are actually solving problems. When you can help a customer with a need – especially a need that they didn't even know that they had, or help internal organizations and external organizations solve a problem to make them more efficient, reduce their costs and increase their productivity, there is a lot of value that you are bringing to these clients, and also you are helping yourself and your company. The personal growth actually happened faster when I was focused on solving somebody else's problems vs. trying to solve my own need to grow in my own career direction.
What has surprised you the most in your career?
Tejas: What has surprised me the most is a shift in thinking. When I was growing up, I and many of the folks around us knew people working at Kodak, GE, IBM, and Nortel – big industry leaders. These were billion-dollar corporations that we all assumed knew exactly what the customers wanted with a strong customer-facing presence. The mindset I had while growing up was that you get a good job with one of these prestigious companies, do your job well, and you will progress through the ranks and be successful. I think the biggest surprise for me was to realize that it isn't about the company helping you but it's about helping the company – helping determine what it is we can do next, what problems we can solve. So, it is you who joins the company to help the company. We see this in today's companies, for example, small startups. The successful ones are out there solving a real world problem that the customers are facing.
What is one of the biggest challenges you have faced in your career and how did you overcome it?
Tejas: One of the biggest challenges I have faced is about people. I was a front-line manager during the turn of the century, specifically in the early 2000s during the tech bubble, a mid-level manager during the housing downturn in 2008, and a senior leader during the downturns in recent years, including the pandemic. It is never easy to deliver difficult messages, especially when people are involved. The way I handle it is by being transparent, understanding people's concerns and showing empathy. And when I say "showing empathy," I mean being truly empathetic, understanding where they are coming from and seeing how else I can help them. Although, oftentimes, there are limited things that a manager can do.
I tell people who are just starting their careers to be prepared and be aware right up front that there will be ups and downs in the industry. And some of them are vertical driven and some of them are industry-wide and others are based on geographies – certain countries or certain regions or they could be for all kinds of reasons, not just economic, but political and others. What I also do with my team is to try to focus on what we can do during those downtimes. This is a golden opportunity to focus on what we can do, how we can invest our time to improve our product lines, how we can solve more problems, and how can we help our customers because they are probably going through the same kind of issues as well at the same time, and see if we can ride out of this and can come out even stronger when there is return to normalcy.
How do you balance your professional and personal goals?
Tejas: Balancing professional and personal goals, from a goal standpoint, is actually easy for me. That is the easier part of the question and I think there is another underlying question beneath it. There is a saying, "Do what you like and make sure your job is something you really enjoy," and, I am a firm believer in this. I am a builder and really like to build and grow projects, programs, and businesses. That is the kind of role I am in right now and I feel very excited about it. So, my personal goals and my professional goals are very much aligned. If I am successful in one, I am successful in the other and I am able to take risks accordingly. However, the underlying question is how I balance work and life and that becomes very difficult. It became increasingly more difficult with the pandemic because we were all locked into our homes, without traveling so the lines between work and life got blurred. You are already at home and don't have an evening commute so it is easy to say, "Let me take just one more call today." But then, it turns into 2 more calls and then the same thing happens in the morning. For example, you take calls with the European team in the early morning and then with the APAC team in the evening. So, my suggestion is to draw the lines between work and personal life.
If you ask my teams that I have led over the past 3 decades, they will tell you that I rarely asked them to work on the weekends. Does that mean that there aren't some travel requirements or there hasn't been an urgent situation or a client-facing situation where we had to work through the weekend? Of course, these things can happen occasionally. But, what I try to do for myself and also for my team is to really block off the weekend. That might mean that I work until 10:00 pm on a Friday but when I shut down for that evening, I try to shut down until Monday morning. Also, throughout the week, I try to block some personal time even if it is just for taking a walk. My entire neighborhood knows that I am usually out walking at 3:00 pm in the afternoon. I take a mental health break throughout the day and almost schedule it right into my daily routine. That is very important because we are so used to being in back-to-back meetings and it is just not healthy – humans weren't meant to do that. This also gets you in a hectic mode because you are just jumping from one meeting to the next. It is always good to take a pause. I listen to some music or walk without my phone for 15-20 minutes to disconnect and take a pause.
What advice would you give to your younger self? Younger professionals?
Tejas: I have 2 kids in college right now. One of them is just starting grad school and the other one is starting the third year in undergrad. And I tell both of them, "Make sure that you don't get too much into a business-only mindset. You have got to have that work-life balance." This is the first piece of advice I would give to younger professionals and my younger self in college.
The second piece of advice I would give is not to be confined to notions of what you expect today. Individuals graduating from universities or even coming out of high school today are likely to change roles multiple times throughout their careers. In fact, several analysis show that they might actually be changing careers over the course of their working lifetime. It is very important not to get bogged down into this mindset of "This is what I've got to do and what I went to school for, I am going to continue to grow by doing this." Things can and will change.
The third and in my mind the most important, is you have to be looking to solve problems, always be thinking bigger, and always try to understand the problems that are out there. Henry Ford stated that "If I had asked customers what they wanted, we would all be riding faster horses." You have to think outside the box, understand and really absorb what the client's issue is and then work backwards to come up with solutions that will actually drive the greatest impact in the most efficient manner. If you get used to doing that and solving a problem, it doesn't matter what profession you are in – whether it is in finance, education, or high tech like my experiences, you will be successful down the road, also be making a great impact to whatever organization you are working with. And this is why, it is a great opportunity to be an entrepreneur as well if you have the ability to think outside the box and come out and solve problems.
Can you tell us about your current role as the global leader of the AWS re/Start Program at AWS?
Tejas: Let me first take a step back and talk about the program itself and how I ended up at AWS. First of all, AWS re/Start was a pilot program that was running in the UK with one collaborating organization, a delivery partner, for close to 2 years. The program is about taking unemployed individuals, giving them the opportunity to get certified – AWS entry-level certification, and then connecting them to jobs with AWS customers and partners. The impetus behind this program was to help our customers and partners who were struggling with talent shortages. The cloud space has been growing very quickly and will continue to grow for at least the next decade. There just is not enough talent supply to meet all the demand and our customers and partners were struggling with their projects and getting them off the ground in a timely manner because of the lack of talent. We initiated this program in 2017-2019 in London with disadvantaged youth and military veterans from the UK military. The program was in its early stages and they were looking for someone to come in and scale the program. This was an opportunity that I knew would allow me to sleep well at night because I would actually be helping create this win-win scenario – a win for these individuals who were unemployed, unemployed, and really needed some help and guidance to get into high-tech – an in-demand industry like cloud, and we would be helping our customers and partners help solve skill shortage issues.
Also, we are helping the communities in which we serve in places where Amazon or AWS exists by taking in their unemployed individuals – many of whom receive benefits from the government – and helping them turn into productive citizens who actually give back taxes to the local community. This just helps the overall economy and helps increase the general culture and the happiness of that area. So, I saw this as a golden opportunity.
Today, the program operates in over 60 countries and 180 cities across the three major geographic regions. We collaborate with several hundred organizations to deliver the program. Together, we are making an impact not just regionally but also at a national level. Several countries are undergoing countrywide transformations through the AWS re/Start program.
To learn more about the AWS re/Start program, please click here.