Key Takeaways: Breaking the Myths of Love and Business Webinar
August 28, 2020
Posted by:

Niti Agrawal

Category:

Blog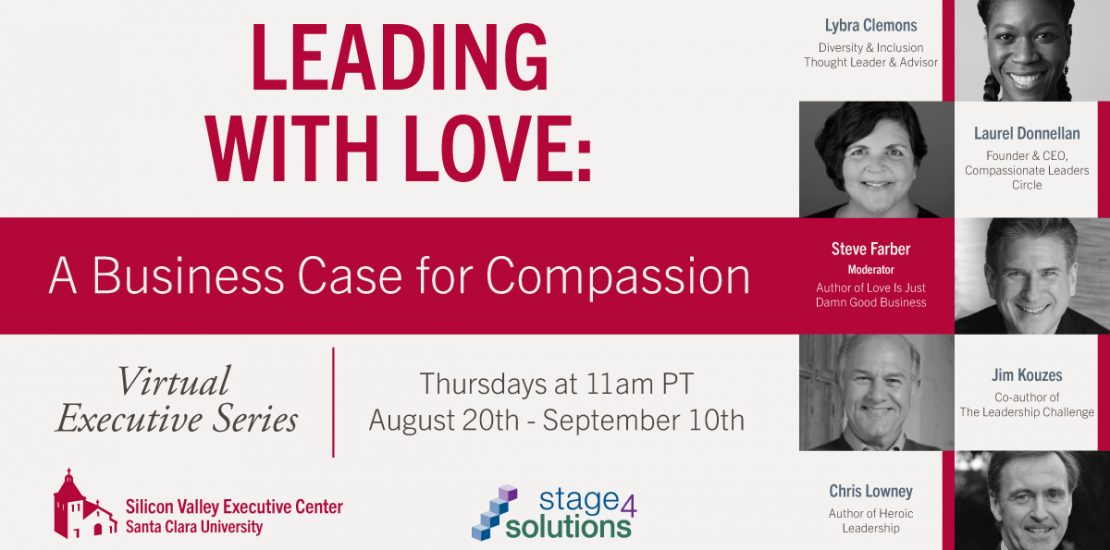 A Business Case for Compassion – Leading with Love, a four-part interactive webinar series, sponsored by Stage 4 Solutions Inc. and Santa Clara University's Silicon Valley Executive Center kicked off with a panel discussion on August 20, 2020. We were excited to be co-sponsors of this event, because we believe, now, more than ever, leaders need to support and LOVE their teams, while still driving revenue.
The broad panel included the following leadership, compassion and love thought leaders:
Lybra Clemons (Diversity & Inclusion Thought Leader and Advisor),
Laurel Donnellan (Founder & CEO of Compassionate Leaders Circle),
Jim Kouzes (Co-Author of The Leadership Challenge),
Chris Lowney (Author of Heroic Leadership),
Steve Farber (Author of Love Is Just Damn Good Business).
The truly interactive and engaging event's first round started with a poll. The question was, "What words do you associate with love in a business environment?" The top answers were communication, openness, trust, loyalty and empathy. We couldn't have agreed more!
The panelists, Chris Lowney and Laurel Donnellan, discussed why there is so much confusion and fear in using the word "love" in a business setting when it's not properly defined. Laurel Donnellan emphasized that there needs to be self-compassion and also compassion for others to build a truly compassionate company culture, while Chris Lowney pointed out a common problem: disingenuous loving culture. It was concluded that authenticity is key when incorporating love in a business environment.
All speakers agreed that there is an ROI to compassion, but ROI should not be the driving force for leaders. Love should be genuine. However, as business leaders, we at Stage 4 Solutions, do understand the requirements for a business case/ROI for any business initiatives. There is hard data on the quantifiable benefits of a "loving culture" – in terms of enhanced business outcomes and reduction of turnover costs/hiring costs. One book that quantifies these benefits is, Compassionomics: The Revolutionary Scientific Evidence That Caring Makes a Difference.
Lybra Clemons discussed how companies actually lose money when they don't treat employees with love. When leaders don't value their employees, employees simply leave. Especially losing high-performing employees is a significant expense for organizations. Lybra stated that the best leaders are the ones that live and breathe leadership principals of compassion, empathy and connection. She further added that in order to prevent toxic business environments, organizations have started to tie compensations to managers' behaviors.
Jim Kouzes defined leadership as a relationship reflected through micro behaviors. He added that when people are put down and not treated with dignity and respect, they will leave their organizations.
Steve Farber asked about "tough love," another excellent perspective that led to another discussion around how accountability is also an act of love.
The panelists agreed that the most important thing leaders can do is to behave in ways people appreciate – avoid divisive language and really "be there" for their teams.
Before closing, all speakers provided their final closing thoughts. Lybra Clemons, with optimism, emphasized that incorporating love can be measured and tied back to compensation. Jim Kouzes concluded with an inspiring story, the single most important bit of advice about leading that he had ever received from any leader. While interviewing Major General John Stanford, he had asked, "What's one lesson would you pass on to leaders about how to become a better leader?", and Major General John Stanford answered, "I have the secret to success in life. The secret to success is to stay in love." Chris Lowney agreed, saying, "You must love those you lead." And, Laurel Donnellan said that leaders could learn how to lead with compassion if they were comfortable with love. Lastly, Steve Farber reminded us how most people really think love is damn good business, but they just don't admit it.
Here at Stage 4 Solutions, we know that we all can agree that love at work is better than hate and contentious relationships. But, how can companies balance love against tough business decisions like layoffs or divestitures of businesses? How do companies authentically "care" about employees during and after layoffs that frequently occur due to market conditions or poor performance? In reality, even among the best and most successful companies, tough decisions cannot be avoided in extraordinary times. Although it's never easy, there are good practices that can help navigate through the difficult times. Listening more, communicating transparently and often, offering extra support such as extending health benefits or career coaching, following up with laid-off employees, are all acts of "compassion" and "love "and can help both leaders and laid-off employees experience faster recovery. In the upcoming sessions, best selling authors and leadership experts will discuss more and address what a love-driven leader means, how diversity and inclusion can be an act of love and how to build a corporate culture that operationalizes love as a significant competitive advantage. Please join us!
Next 2 events:
September 3, 11:00 am – 12:00 pm; Presented by Lybra Clemons: Diversity and Inclusion as an Act of Love
September 10, 11:00 am – 12:00 pm; Presented by Steve Farber: Love is Just Damn Good Business
To learn more and register: https://www.stage4solutions.com/futureevent.html