Inspiration from Shellye Archambeau, Author and Trailblazer
December 18, 2020
Posted by:

Niti Agrawal

Category:

Blog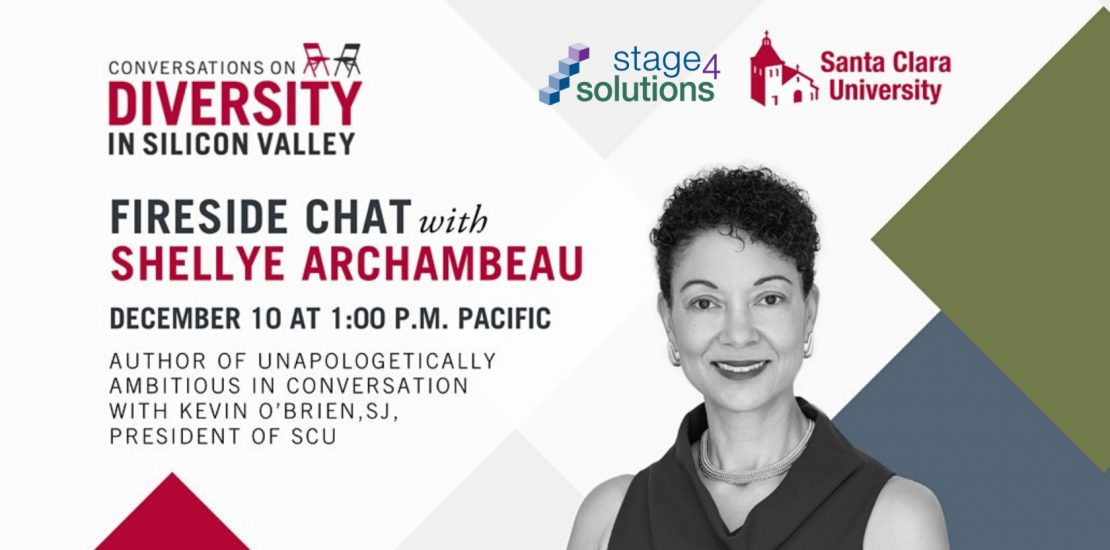 The diversity webinar series Stage 4 Solutions co-sponsors with Santa Clara University's Silicon Valley Executive Center kicked off on December 10, 2020, with a fireside chat with Shellye Archambeau, author of Unapologetically Ambitious, and the President of Santa Clara University, Kevin O'Brien, SJ. We are excited to be a part of this initiative to drive authentic conversations on diversity and inclusion.
As one of the first black female CEOs in Silicon Valley, Shellye now serves on the boards of Verizon, Nordstrom, Roper Technologies, and Okta, and is a strategic advisor to the Royal Bank of Canada, Capital Markets Group, and Forbes Ignite. Shellye built an impressive career by embracing challenges and growing, and there is so much we can learn from her.
Her fortitude and strength were developed at a young age. Growing up in the 60s, discrimination was overt and hostile. But instead of succumbing to the injustice of the world, Shellye's mother taught her to stay strong. Her mom told her that "life was not fair," but that Shellye needed to learn to control her response to unfairness and not allow others to affect how she felt about herself. A hard message to accept, but it has served Shellye well as she established her own goals.
She crafted a plan to realize her goals. Shellye knew that achieving her objectives would require hard work and dedication. And, she structured her entire life to support that plan and to get to where she is right now. A key factor to her success was her husband's support. She admits that she wouldn't be able to achieve this success without having shared goals, vision and values with her life partner.
From the beginning, she was ambitious and knew exactly what she wanted. Although there is so much negativity around the term "ambition," especially for women, Shellye defines ambition as a proper exercise for self-esteem and a way to build supportive relationships while not stepping over others – which is purely bad behavior.
Shellye, with impressive honesty, admitted that despite her proven success, she still experiences the imposter syndrome. She feels that many people suffer from such self-doubt. When she hears the internal voices telling her that she is not "good enough", she reminds herself that others trust her, and have selected her for the opportunity, so she should trust their judgment of her. Hearing this from a leader like Shellye was so genuine.
Shellye truly believes in the importance of diversity, authenticity and vulnerability in leadership. She thinks being vulnerable is what makes us human and that inauthenticity is not sustainable. Companies need to be "intentional" about diversity to achieve it.
We gained tremendous value from this insightful conversations on diversity. If you missed this event, please click here to watch the recording.
At Stage 4 Solutions, our purpose is to support professionals as they further their careers. We continue to sponsor industry learning opportunities to provide value to our clients and professional communities. We believe the only way to grow ourselves and expand our roles in the organizations we serve is to continuously invest in ourselves.
Please join us in the upcoming webinars!
• January 28, 1:00 pm PT – Diverse Women in VC
• February 25, 1:00 pm PT – Fireside Chat with Darren Walker