My Career Path: Interview with Ramesh Chitor, Sr. Director, Rubrik
September 29, 2021
Posted by:

Selen Warner

Category:

Blog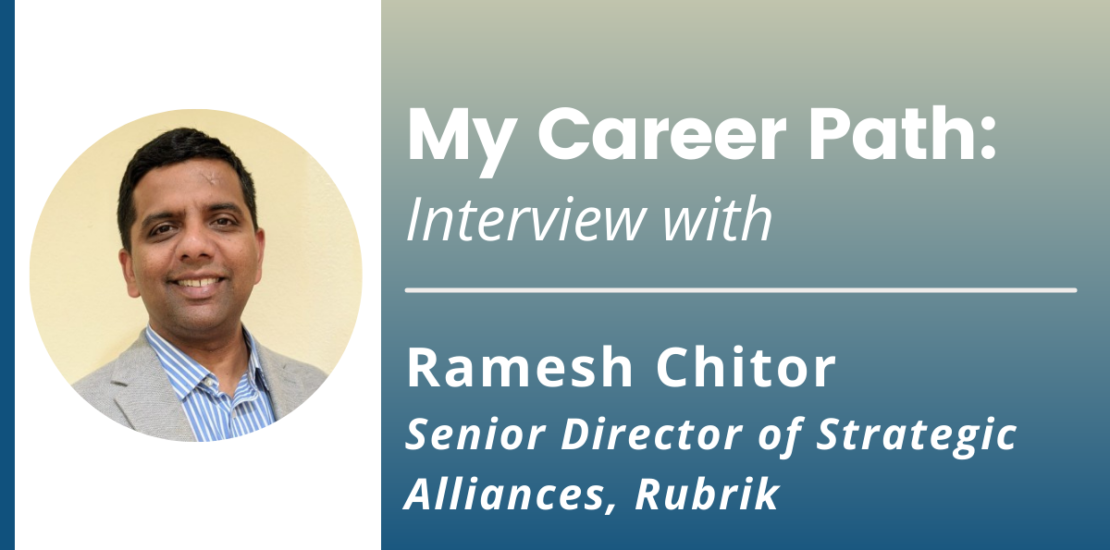 Earlier in September, we had the pleasure of speaking with Ramesh Chitor, Senior Director of Strategic Alliances at Rubrik, about his career path and the decisions that contributed to his success. Here at Stage 4 Solutions, we are committed to supporting professionals' career growth, and we believe that one way to enable success is learning from leaders.
Ramesh is a value and data-driven leader with over 20 years of success at leading high-tech companies such as IBM, Cisco, Western Digital and Rubrik. In his current role as the Senior Director of Strategic Alliances at Rubrik, Ramesh works with Rubrik's strategic alliance partners on driving outcomes and scaling go-to-market programs. His team creates mutual opportunities at scale, driving successful business outcomes by working closely with clients, partners, end-users, and the entire ecosystem.
Feel free to: connect with Ramesh on LinkedIn
Can you walk us through your career path? How did you begin your career?
Ramesh Chitor: I started my career as a Solutions Consultant in the database systems space. Then, I was very fortunate to join IBM, where I held roles as a business development and go-to-market solutions leader. IBM has been a pioneer of many significant innovations, and being part of this journey was invaluable. As part of the systems and technology group, I led IBM's solutions engagement, managing top security and database independent software vendors (ISVs) – Microsoft, Oracle, SAP and Sybase. After almost 10 years at IBM, I joined Cisco as the Business Development Executive for Cisco's WWPO organization, where I managed database and strategic converged infrastructure partnerships. After 5 years at Cisco, I led our strategic alliances for Western Digital's business unit with hyper scalars and converged infrastructure partners. Since 2018, I have been with Rubrik as the Senior Director of Strategic Alliances, managing key GTM partnerships.
What have been your career aspirations?
Ramesh Chitor: I would have never imagined I would be doing what I am doing now. I have a background in computer science, and during my early college days, I was always results-oriented and outcome-driven. Active Listening, Adapting to Win, and Leading with Empathy I found are key to being successful and building trust in the ecosystem. Even with the advent of AI and its speculated wide adoption in the near future, People still buy from People. That's not going to go away! Enjoying people conversations and having a penchant for a wide variety of sports helped me adapt and connect with people from all backgrounds. I was better at dealing with people vs. dealing with machines, so I made the conscious shift to focus on building mutually valuable relationships.
Trust and integrity play a key role in managing alliances. When done right, it can turn into a massive force multiplier for all parties involved. You work together with your partners and create a win-win scenario for both sides. This involves a lot of planning, running health checks and measuring success at regular intervals. Instinctively, I am constantly calculating the probability of a win in every situation, and taking necessary remedial action where needed. No matter how you slice and dice it, to a large extent, it's all about numbers, and I have been fascinated by numbers and calculating probabilities in whatever I do.
As you progressed through your career, how did you assess new opportunities?
Ramesh Chitor: I have always followed "innovation" while evaluating opportunities. I started my career in the applications space and then moved to decentralized computing, networking, storage and data protection – where the innovation was happening at the time. In the space I am in right now, cloud data management, great innovations are happening! The dimensions of data management are constantly evolving, and there is a massive amount of innovation we are going to see in this space.
Another best practice at the time of changing roles that's worked for me over the years is to change just one aspect of the role. When you transition to your next role, you want to carry your key skill sets, relationships and connections to leverage in the new role that can help you become successful. This is what I have done throughout my career. For example, when I moved from IBM to Cisco, my role was very similar, working with the same Independent Software Vendors. Similarly, moving from Cisco to Western Digital, I managed the same cloud partners.
Alliance/partner management roles are high-impact, demanding and rewarding experiences. You need to have a growth-oriented open mindset while evaluating opportunities. You get to evaluate and architect long-term, mutually valuable business relationships with your partners.
Where do you think the next wave of innovation is coming from?
Ramesh Chitor: Certainly in the mRNA and DNA technology. I think the future will be all about storing data in DNA to solve genetic health issues with mRNA.
How do you define your role as Senior Director of Strategic Alliances?
Ramesh Chitor: I work as part of our global sales acceleration team, managing our top-tier alliance partners. I always say, when you partner with everybody, it is like you are partnering with nobody! Thought has to be given towards defining your top partners and defining appropriate swim lanes. Relationship building is key for this role. In these roles, one always needs to be ahead of the game and on top of things. I see the challenges and opportunities 6 months to 18 months ahead of time to mitigate risks. Measuring our success, learning from data, and sharing this knowledge with the team are essential components.
What is one of the biggest challenges you have faced in your career and how did you overcome it?
Ramesh Chitor: I have been in alliance/partner management throughout my career. In this type of role, you feel like you are always in a fire fighting mode – in some extreme scenarios, putting out fires all days of the week. In those cases, there is no vacation time. Unless you find this job exciting and love this role, it's hard to be successful. Time management is so important and challenging! Too many people wear their burnout as a badge of honor. When you get downtime, it's important to maximize that time and recharge. Also, with changing priorities and end-user demands, it's very important, how you manage and communicate surprises, both good and bad. You need to be proactive in communicating these with your executive management.
How do you balance your professional and personal goals?
Ramesh Chitor: There is no work-like balance; what we have is work-life integration. This can be a demanding role, and I find ways to integrate my professional and personal goals. Also, in this kind of leadership role, many people are dependent on you to succeed. You must be available to support your teams and partners.
What advice would you give to your younger self?
Ramesh Chitor: First advice I would give is to learn to say "NO" more often where applicable. It is alright to say NO when things aren't aligned with your mission. It's also okay to say, "I do not know enough about this to have an opinion." This way, you are focused on your goals. These jobs can be hard and humbling where you take on a large and important problem with a small team in a limited time frame.
The second piece of advice I would give is to have mid-range goals and pace your progress. People always think about 3 to 5 years ahead. Maybe, shrink the cycle down to 18 months for a near-term goal. For example, following receiving investments, the average expectation from private companies is to double their valuation within 18 months. In the same way, individuals can have mid-range goals to grow their careers and skillsets within a certain pre-defined period. I have also seen, a lot of successful folks have solid 90-day plans.
What advice do you have for empowering teams?
Ramesh Chitor: Trust is very fundamental; to strive to work with uncompromising integrity. You do not hire people to tell them what to do. As managers, we empower and support our teams in times of need.
Communicate clearly and keep lines of communication always open. You want to be there to lend an assist in any way you can. At the end of the day, we are one team together, and the winning mindset is key to marching forward together. Encourage team members to be part of a solution as opposed to being part of a problem.
Disagreement is okay. Diversity of opinions and ideas is what, at times, contributes to team success. Get the creative juices flow as opposed to shutting down ideas early.
Encourage your team members to identify and find mentors! These are very important business relationships and play an invisible hand in your success. I have been very fortunate to have high-quality and supportive mentors: Marie-Anne Neimat and Wendy Bahr.
Leadership is all about empowering people; let your team members take risks and learn from them. It's okay to show up with all of your flaws and be yourself. Stand tall and own them all. They make you, your absolute you, closest you can get to the absolute truth. Let your team members define their own risk/reward quadrant and trust them to execute to their best.