My Career Path: Interview with Shivani Govil, CPO, CCC Intelligent Solutions
July 25, 2022
Posted by:

Selen Warner

Category:

Blog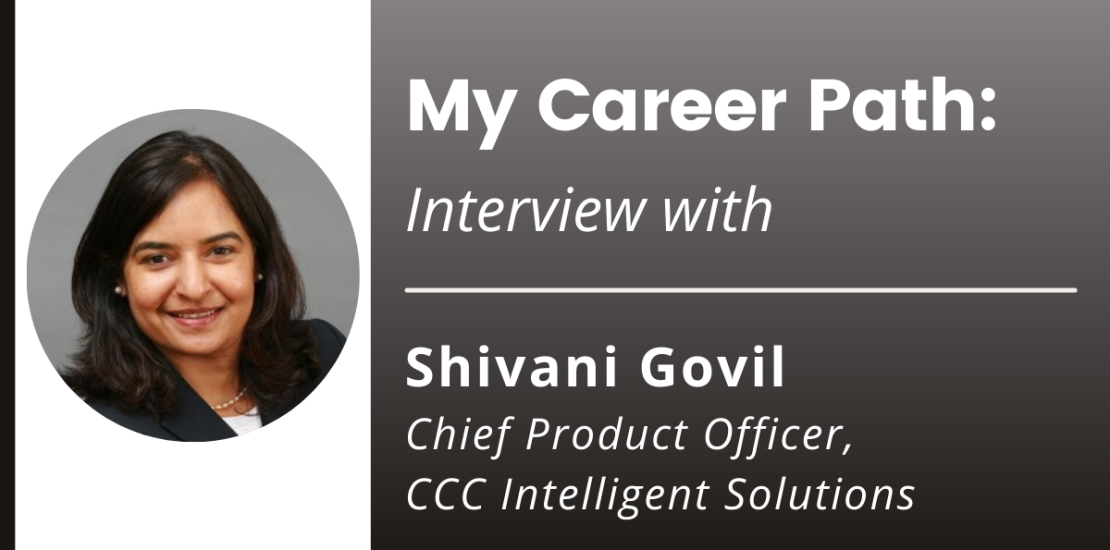 This month, we had the pleasure of speaking with Shivani Govil, Chief Product Officer, CCC Intelligent Solutions, about her career path and the decisions that have contributed to her success. Here at Stage 4 Solutions, we are committed to supporting professionals' career growth, and we believe that one way to enable success is learning from leaders.
Shivani Govil is a senior technology executive driving business growth through digital transformation. Shivani is passionate about the application of technology to solve customer pain points and achieve business outcomes. In her current role, as Chief Product Officer at CCC Intelligent Solutions, Shivani is responsible for delivering innovative solutions that harness advanced technology such as AI, IoT, mobile, analytics, customer experience and network management to power the multi-trillion-dollar P&C insurance economy.
Prior to CCC, Shivani held global leadership roles at SAP and Sage Software. She has worked at large companies as well as Silicon Valley startups and began her career in management consulting. She is a recognized industry thought leader and a frequent speaker at industry events as well as universities including Stanford, Carnegie Mellon, Berkeley, and MIT.
Shivani has a Master of Science in Engineering from Princeton University and a Bachelor of Science in Engineering from the Indian Institute of Technology, Bombay. She is on the board of two non-profits, Neythri advancing South Asian professional women, and IITBHF promoting education and research among students at her IIT alma mater.
Feel free to: connect with Shivani on LinkedIn
When you were at Indian Institute of Technology, Bombay, what were your career goals?
Shivani: I have always had an interest in technology. Growing up, I was fascinated by the animated sitcom series, Jetsons. They had flying cars and robots doing work around the house and that futuristic technology really captivated my imagination.
My father was a leading scientist, and my mother was an artist. I grew up in an environment where I had a mix of both the scientific and analytical thinking and the creative, artistic influence. When I went to the Indian Institute of Technology, I was always looking at ways to bring my right brain and my left brain thinking together to be able to combine some of the engineering pieces like the analytical thinking, the mathematical context with some of that creativity to go outside of the box. My aspirations were around doing something different to change the world and have a meaningful impact on people's lives. I didn't have a clear path ahead of me, but I knew that I wanted to do something where I could bring those two skill sets together to make a difference. I wanted to change the world!
What factors led you to attend Princeton University?
Shivani: After I completed my undergraduate, I wanted to continue in my field of focus for higher studies, and also expand my horizons. Princeton's engineering program was very strong, and they also had a leading school in public policy, a dimension that would expose me to different types of thought processes. As a leading institution, they always hosted motivational and inspiring speakers, and the faculty and the curriculum were top-class. I did my master's in engineering in conjunction with the school of public policy.
How did you decide on your first job?
Shivani: In graduate school, I really enjoyed the combination of engineering and public policy and I felt like there was something unique that allowed me to bring things together. After graduating, I realized that I needed to understand what drove a business – key priorities, what makes a business function and flourish, what do business leaders look at as they drive growth? So, in my first job, I wanted to go into a space where I could develop some of those basic business fundamentals and knowledge which is why I chose to go into management consulting.
As you progressed through your career, how did you assess new opportunities?
Shivani: There are 3 measures I use to assess an opportunity.
First is that I want to use technology in a way to transform and disrupt industries in every opportunity I look at. I am extremely passionate about technology and believe in the power of technology to enable people to do things differently. I find the technical feasibility, desirability, and viability to be very important. I love building products that leverage technology, but also have great experiences that people love to use.
The second is that I want to make an impact in whatever I do. My big vision of being able to impact and affect people's lives in a meaningful way is always with me. People across an industry, people across the world, but also people within a company.
And the third criteria that I look at is culture and values. Strong ethical values, collaborative work environments and a constant learning mindset are some important aspects for me.
I view all 3 components as equally important.
What factors led you to leave consulting and move into tech startups?
Shivani: After being in consulting for several years, I realized that I am the type of person who likes to build. As a consultant, you come in, you consult, you may go to the next stage where you set the strategy, and then you may be involved in implementing and executing it. But you are not there throughout the journey of the company to build the organization. I realized very quickly that I am the kind of person who likes to build, and I enjoy seeing the fruits of what I contribute to and helping grow an organization. Then I said to myself, "I have seen the large company consulting world. Let me go to the other extreme, startups." In startups, you are literally building a company from scratch – taking an idea, an innovation and building a tangible product and business you can scale. So that is what led me to make that transition and was an extremely energizing time with a lot of hands-on learning.
Can you tell us what made you join a large company after working at tech startups?
Shivani: I did 2 startups, back-to-back with the same CEO and we had good exits. At a certain point, I got to this stage where I needed a bit more stable environment for personal reasons. That is when I chose to join Agile Software which was a mid-sized company and a leader in its space. At Agile we had the best of both worlds – we were a domain leader so people are seeking you out and you don't have the struggles of a startup to prove people who you are, and at the same time, we were small and nimble enough that we could make changes and drive action very quickly.
What has surprised you the most in your career?
Shivani: There are several things that have surprised me over the course of time, but I would say what has surprised me the most is the support I received from others to help me achieve my visions. If you have a dream, and if you have a vision, everything falls in place to help you achieve that dream. Knowing what you want go after makes you much more focused, and it also focuses you , helping you get to that vision.
For example, my dream has been to impact people in the world in a meaningful way, and after a few years working in the US, I was very passionate about wanting to go back to India and doing some work with the government and the people in India to help them. I was ready to quit my job and do that. I had a good, high paying job, but I was just so passionate about this dream. Then I started telling people about what I wanted to do. After hearing about my plans, one of the partners at my consulting firm said, "I will support you to make this dream happen." She actually reached out to the Anderson offices in India. They got me set up with the environmental ministry in India to work with them to solve some of the environmental issues that were happening in the country at the time. I could have followed my passion and gone back to India, and I would have done something which would have been meaningful, but the impact might have been at a smaller scale. Once I started talking about my dream, people rallied around to support me, and they helped unlock something much greater than I could have ever imagined. The biggest surprise for me is the possibility to take the power of your vision and your desires, and bring people around you to support you, and be able to achieve much more than what you would have on your own.
Can you tell us about an important career risk you took?
Shivani: I worked in consulting and then I went to start ups and then to a mid-sized company and then I was at SAP for several years which is a large company. At SAP, my work was very fulfilling. I was working on new innovations, and I also had the stability and balance of a large company. After being with SAP for over 10 years, I was approached by one of the executives I had worked with earlier in my career and he asked me if I would be interested in joining him at a different company which was a smaller sized company compared to SAP.
I was in a very secure job, and I asked myself if I really wanted to take the risk and leave such a secure and fulfilling job. Going into a smaller company could have challenges and require more work to prove and establish who you are. Was I ready for a switch in my career? I had kids at home, and I wanted to balance my family and work life. There were several things I had to think through, and then I went back to those 3 fundamentals that I consider while evaluating new opportunities. And I said, this is a great opportunity, there is a person that I know and trust, and it gives me a way to feel out, test, and experiment with something different, and there is a risk that it may not work out. But that is life, and we have to keep taking risks, so I took the risk.
What is one of the biggest challenges you have faced in your career, and how did you overcome it?
Shivani: Balancing personal and professional lives. We all have our personal lives, and we all have our professional lives, and the challenge always is, how do you balance everything? Many of us desire to do everything really well and yet that is not possible – you can't do 10 different things and excel at everything. So, the challenge really was how to ensure I was focusing on the top things and giving my 100% in whatever I was doing.
One of the things that I realized is that it is not work or personal – rather it is all one big continuum, and you have to live your life across all those different pieces and that there are points in time where something takes priority over the other. The second thing I realized is the importance of having a support network. There have been times where I have been so into my work and my husband has stepped in and picked up some of the more personal activities, or there have been other times where I have taken my foot off the gas from a career perspective to spend time focusing on some personal things. My husband, kids, family members, and friends have all stepped in and supported me when needed, whether it's the carpools or being there at events that I couldn't attend. Having that support network on both the professional and personal side really allows you to be able to do all that you have on your plate at a given time.
What advice would you give to your younger self? Younger professionals?
Shivani: There are 2 things that I would really point to:
First is DREAM BIG. It's about dreams, the power of dreams, and I would say, dream big! When you really have the desire, the passion, and the ambition, everything falls in place to make those dreams a reality.
Second advice is: thrive don't survive. Life is short, and you want to be able to enjoy every moment and feel like you are really thriving in that moment. Whatever it is you are doing, don't just try to scrape by doing the minimum or just to check the box – really enjoy what you are doing, and give it your best and give it your whole self.