My Career Path: Interview with Sandeep Muju, Advisor / Innovation GTM Head, TCS
January 23, 2023
Posted by:

Selen Warner

Category:

Blog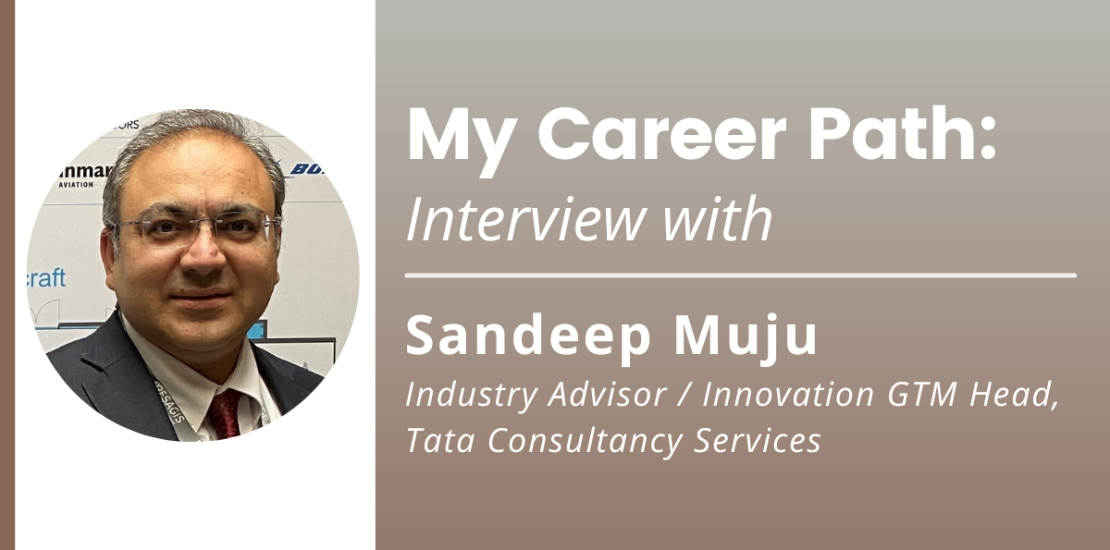 This month, we had the pleasure of speaking with Sandeep "Sandy" Muju, Industry Advisor / Innovation GTM Head at Tata Consultancy Services about his career path and the decisions that have contributed to his success. Here at Stage 4 Solutions, we are committed to supporting professionals' career growth, and we believe that one way to enable success is by learning from leaders.
Sandeep is a high-impact senior business leader in technology and highly engineered product environments. Sandeep has multidimensional Fortune 100 and entrepreneurship experience, spanning, P&L management, business development, technology innovation, R&D, new markets and demand creation, solutions GTM, product management, value-chain optimization, strategic industry 4.0 digital transformation, and Board experience. He is a digital transformation thought leader, particularly for manufacturing industries.
Career Summary:
Tata Consultancy Services – Innovation GTM Head / Industry Advisor: 2022 – Present
Tata Consultancy Services – Aerospace & Defense Industry Advisor/Practice Head: 2019 – 2022
PlutusKuber Ventures LLC – President: 2017 – Present
San Jose State University – Executive Director (CEO), Research Foundation: 2015 – 2017
IBT – Executive Vice President / CEO: 2005 – 2015
KPMG – Director Advisory Services: 2010 – 2012
Moser Baer India Ltd – Corporate Vice President and Solid-State SBU Head: 2005 – 2007
Honeywell Aerospace – Progressive Leadership roles: 1997 – 2004
Tenneco – Senior Engineer: 1995 – 1997
NASA/AFOSR funded Research Associate: 1990 – 1996
Feel free to: connect with Sandeep on LinkedIn
Can you tell us about your upbringing? Who were your role models?
Sandeep: I grew up in India. My father, who passed away a few years ago, was a professor at a University in India, and I grew up on the university campus. Most of my family members were either educators or held senior government public-trust roles. So, they were the role models whom I idolized while growing up. In addition to family members, my other big role models were Mahatma Gandhi, the Father of the Nation, and Indira Gandhi, the daughter of Jawaharlal Nehru and the first female prime minister of India (well ahead of many developed nations). Also, at the time, the space shuttle was one of my top interests and I looked up to President John F. Kennedy because he put forth the first literal "Moon Shot" and had an ambitious vision for the U.S. space program.
What aspects of Mahatma Gandhi and Indira Gandhi inspired you and in what ways were they your role models?
Sandeep: Mahatma Gandhi initially went outside of India, and then he came back to India, and he did so much for India. He was selfless in his way of doing things and is known for the non-violence movement. How he was able to connect with people regardless of their backgrounds touched me. He came from a wealthy background, but he pursued a simple life upon return to India, sacrificed so much, and fought for the people, leading movements to ease poverty among other things he is known for.
Indira Gandhi was a very big figure in her own right mainly because of the way she led the newly free country during its infancy. She had to make a lot of tough decisions. In the 1960s, there was a huge famine in India. She went abroad to bring grain because there simply wasn't enough grain to feed people in India, but she didn't get a very warm reception. Then she started a centralized movement to fight famine and focused on self-reliance. That was very inspiring to me. She had to make some really tough decisions for the country's overall benefit.
When you were at IIT Kanpur, what were your career inspirations?
Sandeep: Being the son of a professor and a grandson of an educator, I was automatically influenced toward a research and teaching-type future. When I was in college, many of my friends and colleagues were going for industry jobs. Even though that was on my mind, I was considering going into research or university direction. Also, many were going to the US and so that was on my mind as well.
What factors led you to obtain your Ph.D. at Ohio State University?
Sandeep: I think that was kind of automatic, like pre-programming, and was almost expected from me. Coming from a family of educators, I felt that my family would expect me to get a Ph.D. and that it would bring them joy, which it did. So, I hadn't specifically thought about "Why" I would go about getting a Ph.D. However, I couldn't afford it financially so I needed to find a good place where I could get a full scholarship. I first came to Case Western University in Cleveland, OH based on a NASA research scholarship. While I was studying at Case, one of the textbooks in Fracture Mechanics we used was from a professor who was at The Ohio State University at the time, and it was considered one of the top textbooks in the field that I was studying. That inspired me to go to Ohio State and do Ph.D. under him with NIST/AFOSR funding.
What made you decide to not be a research scientist or a professor in academia and pursue a career in the industry?
Sandeep: To obtain a Ph.D., you need to go through a long process – you have to go through the coursework, and then you need to clear the candidacy exam to become a Ph.D. candidate and need to follow many other processes along the way. So that was all sort of mechanical in a way, and I had just finished that process. And once I had finished all of those requirements, and was a Ph.D. candidate, I started finalizing my thesis research topic, and then I asked myself, "Okay, what is my next step, will I join a university and be a faculty member?" Then I started thinking about what it means to be a faculty member. I started to realize that I would have to continue doing the same kind of research work in the same field, publish more papers and keep publishing more papers and get grants, which was great. But it started to sound a little monotonous to be quite frank, and I wasn't sure whether I really wanted to do that or not. That is when I started thinking, "Maybe I need to look at things differently." Things sometimes happen at the right time and right place. Tenneco, which is an automotive company was doing some joint research with Ohio State. Through that, I got to know about Tenneco, and eventually, they offered to work for them. I thought it was a very interesting proposition but I was on a student visa at the time. However, on a student visa, we were allowed to work with industry before and after completion of my Ph.D. and I enjoyed that. I thought it was very different from what I had known so far and I liked it, so that is what put me in the direction of pursuing a career in the industry.
What factors led you to pursue an MBA at Arizona State University?
Sandeep: After finishing my Ph.D. I continued working full-time at Tenneco, but that was not exactly my target company. I was more interested in working for an Aerospace company and got the opportunity to work at Honeywell Aerospace in Phoenix Arizona. I worked on a lot of interesting things there. After a while, I started noticing that being an engineer the career options were somewhat limited, and felt like going beyond engineering in the company. I decided to talk to HR and told them that I wanted to do something else outside of the engineering groups on the business side. And they said, "Well, you can do that, but you know we have a lot of people in business who have MBAs" Then I said, "Okay, maybe we have a middle ground where you allow me to get an MBA so that I get some background in business." And, to my joy, they sponsored me for the executive MBA at Arizona State University, while I was working full-time for Honeywell.
How did you decide on your first job?
Sandeep: Honeywell was my first official industry job. While I worked at Tenneco before Honeywell, in my mind it was more of a consulting job I was doing while finishing up my Ph.D. I was more interested in working for an Aerospace company and got the opportunity to work at Honeywell Aerospace starting in the jet engines division. I was offered the position based on my Ph.D. research that was related to some of the ongoing advanced development they were doing for a new jet engine they were designing for the US Air Force.
As you progress throughout your career, how did you assess new opportunities?
Sandeep: Even though I didn't learn about ikigai until much later, I think that is essentially how I have been assessing new opportunities. Finding one's Ikigai refers to one's sense of purpose or something that brings fulfillment. It has been a vital thought process for me that has guided me when assessing new opportunities as many competing factors must be taken into consideration. Essentially, I was trying to find my Ikigai throughout my career.
While assessing opportunities, you should ask yourself what it is that interests you and aligns with your talents and skills. Is there a need in the world for what you have to offer? Can you make a financial return from it? Of course, looking at the company culture, type of company and industry is important but ultimately it was really about finding that Ikigai to decide what positions I should pursue. As time went by, I realized my Ikigai was changing as I traversed more milestones. For example, within Honeywell, my initial Ikigai was focused on being the best engineer I could be, and did very well at that, but as I started to get more understanding of the business my Ikigai started to move more in the business direction.
While financial returns is a key driver, a lot of us subconsciously are trying to find the right balance and happiness. What makes me happy? Can I make enough money without having to worry about toxic cultural issues at organizations? For me, I was always trying to find that right balance, because sometimes you go more in the direction of where you will earn more but then you realize the company culture is not a fit for you. Then you try to find something else where you can enjoy more but the financial returns are insufficient. Ultimately one also wants to feel good about the work we are doing, i.e., is it good for society or the environment for example.
What has surprised you the most in your career?
Sandeep: The evolution of technology and pace of innovation in consumer-facing industries.
I was fascinated by the aerospace industry since I was a kid. And I was fortunate enough to work on cutting-edge research related to the space shuttle and other advanced aerospace programs. However, largely due to a combination of regulatory burden, the nature of the risk profile for the industry, and what it takes to make new scientific breakthroughs in deep-tech fields, the pace of change in this industry is relatively slower.  By the early 2000s with the expansion of the Internet, ubiquitous Emails and with advent of smarter phones, consumer-oriented innovations started to drive significant changes, many of these were dual-use outcomes from earlier research related to the space program. The confluence of new technologies such as AI/ML, Big Data Analytics, and other Digital technologies started to usher tremendous changes and new business models, what we started calling Industry 4.0. That acceleration of technology-led change caught me by a bit of a surprise as until then I was largely working in the B2B space. I had not been following B2C or B2B2C sectors as closely and didn't anticipate that things would change that fast in the consumer-facing space. But it was very interesting to me because it allowed me to think in terms of broad innovation and to distinguish between deep-tech research and the broader innovation spectrum. Most of my work in my early career was in scientific research in deep-tech areas which requires a lot of diligence and is usually a very deliberate, slow process.  The new focus on a broader Innovation spectrum allowed me to leverage both my engineering as well as business skills.  I was easily able to navigate this and have been enjoying working in this broader innovation arena since.
Can you tell us about an important career risk you took?
Sandeep: I would say I have taken many risks over the years, but one risk I would consider an important risk is leaving Honeywell. When I joined Honeywell, I was an engineer, and I did very well in the engineering function, and then I moved into the business side and then I was trying to figure out where I would go from there and the choice was to either stay at Honeywell or to do something else. But of course, life happens. At the time, I was in Phoenix, AZ and my now wife was in Los Angeles, CA. And I decided to move to LA. This move required me to change my role and the rest is history as they say. This was a big and risky decision because I was leaving something that I had gotten good at, and I didn't know what the next move would actually bring. After that, taking risks became easier.
What is one of the biggest challenges you have faced in your career, and how did you overcome it?
Sandeep: There are always challenges so it is hard to pick one. But I would mention a challenge I faced earlier in my career just after I had completed my MBA. I was given the opportunity to move from an engineering role in the jet engines division to a business leadership role in the electronic systems division within Honeywell Aerospace. I had this opportunity to go from being a hands-on engineer to leading a strategic six-sigma plus initiative at a business unit level impacting business results while also solving technical problems. So, it was a new arena for me, it was a personal growth opportunity really. Until then, I was a very hands-on engineer primarily in mechanical engineering, and now I was leading people in a new business unit and on top of that, it was newer from a technology perspective and I needed to address both engineering and business problems.  This was a bit outside of my then technical expertise and experience at the time. I was the leader for the business initiative, but without having direct reporting relationships and so mostly in a dotted-line influence leadership role and I had to make a visible impact at a business unit level. So, that probably was the toughest challenge I had faced in my early career. I believe this challenge is also what shaped the rest of my career, what I would call a career-shaping experience. To this day, I sometimes come back to that particular stage in my career and think about how I was able to successfully rise to the challenge and deliver. Overall, we did very well, and we got all kinds of awards and made a huge business impact. And it was much better than I could have expected, and so that became my own personal growth experience as well, and it gave me confidence and made me realize that I actually didn't need to be an expert in all fields people were working on because they were the experts, and I needed to exercise my leadership skills and guide and lead the diverse teams to figure out how to leverage their varied technical expertise and working as cross-functional team(s) solve the larger business problems together. That was also a time when I started doing a lot of reading on "leadership" related topics.
How do you balance your professional and personal goals?
Sandeep: That is always challenging but thanks to my wife, I am able to find balance. She is very happy with her career and doing well. Raising children in such a circle where both people are working professionals with career desires is challenging and is a balancing act. We would balance everything between the two of us and have managed so far successfully. I think it is important to have commonly shared values between spouses. If both parents are completely focused on their careers, then basically the kids at home will suffer. So, you need to find a way of balancing that, but it is never easy!
What advice would you give to your younger self? Younger professionals?
Sandeep: Over the years I have been fortunate to be able to traverse many professional scenarios, As I learned new things, I noticed my Ikigai also evolved, and as a result, I have been on my own personal transformation journey of sorts.
In the initial stages of our careers, we tend to be very focused on careers based on what we know at the time. We may not have too many other important responsibilities. Most likely, you are single, and your focus is more on your career. At least, looking at myself, I can say that was the case for me. It was more like a sprint. I would say that instead of thinking of your career as a sprint, think of it as a marathon. Look at a job from a career in the long run perspective knowing that you may not yet have all the information and then do things according to that. And I think one of the things that worked for me is continuous learning. I was always curious and keen to learn new things whether in engineering, technology, or business and so I kept up with newer technologies and business developments. I started as a researcher, moved into mechanical engineering, then moved into business leadership and P&L roles, and also traversed technology industries. Change is constant. It is not just about the next few years or so. It should be more about the longer term, and the best way to think about the long term is to make sure that we make lifelong learning a core competency, and then this whole marathon journey becomes easier because as things change, you can ride the wave and keep moving forward.
Another piece of advice I would give is to take risks. In retrospect, I feel that I was not taking enough risks in the early stages. Even though at the time the risks I took felt like big risks because it was something new, but in the retrospect, I was underestimating my own capacity for rising to a new challenge. When you are trying to let go of something that you are good at or do something new, it feels like a bigger risk than it may be. Like advice to business leaders, at a personal level as well, the choice is basically about whether you want to keep getting incrementally better at things that you already do well or do something new that is potentially game-changing. So, be bold!
Lastly, I would say "enjoy." I mean, we have to enjoy what we are doing to the extent possible and also have an enjoyable life.  Sometimes we get so focused on careers, we forget that there is a life outside of work as well. For that, I also do some volunteering that feeds the soul.  Keeping that life-work balance is very important as well as being true to yourself.