My Career Path: Interview with Lynn Torrel, Chief Procurement and Supply Chain Officer at Flex
April 26, 2022
Posted by:

Selen Warner

Category:

Blog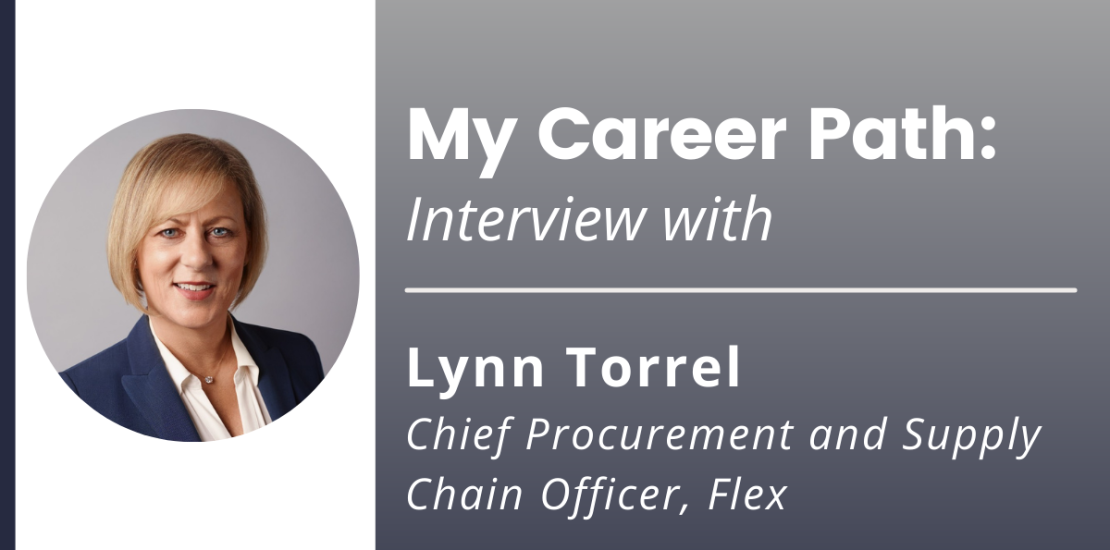 This month, we had the pleasure of speaking with Lynn Torrel, Chief Procurement and Supply Chain Officer at Flex, about her career path and the decisions that have contributed to her success. Here at Stage 4 Solutions, we are committed to supporting professionals' career growth, and we believe that one way to enable success is learning from leaders.
Lynn Torrel is the Chief Procurement and Supply Chain Officer at Flex, a global diversified manufacturer that helps a diverse customer base design and build products that improve the world. Through the collective strength of a global workforce across 30 countries and responsible, sustainable operations, Flex delivers technology innovation, supply chain, and manufacturing solutions to numerous industries and end markets.
In her role at Flex, Torrel is responsible for direct and indirect materials, transportation and logistics, business operations, materials management and strategic supply chain management.
Prior to joining Flex in September 2019, Torrel held several leadership roles at Avnet spanning global supply chain solutions, strategic accounts and semiconductor business development, among others.
Torrel holds a bachelor's degree from the University of Minnesota-Duluth and an MBA from Arizona State University.
Career Summary:
Flex – Chief Procurement and Supply Chain Officer (2019 – present)
Avnet – President, Avnet United and Velocity (2018-2019), various leadership positions (2001-2018)
EBV Elektronik – Manager, Corporate Accounts and Logistics (1998 – 2001)
Wyle Electronics – Inside Sales Representative/Field Sales Representative (1994-1997)
Feel free to: connect with Lynn on LinkedIn
After graduating from the University of Minnesota – Duluth, what were your career goals?
Lynn: I actually graduated with a degree in communications with minors in political science and journalism, and my initial ambition was to become a broadcast investigative journalist. I thought that would be so exciting! In my junior year of college, I started working at the local television station and took on more behind the scene tasks like running the teleprompter. And then in my senior year, I started actually on air doing the weather and then did some feature reporting. At the time, that was my career goal but you know, life can take you down a different path.
How did you decide on your first job?
Lynn: My first professional job was at Wyle Electronics, a semiconductor distribution company. Being in the business side and also the technical side was really exciting to me, and I liked what I was doing as an Inside Sales Rep. Right from the start, I enjoyed being in the tech industry and the supply chain aspect of it.
Can you tell us about how you joined EBV and moved to Germany?
Lynn: While I was working for Wyle, my husband had an opportunity to work in Germany, and right at that time, Wyle was bought by a German holding company that also owned EBV. So, being young, it just seemed logical to go and work for that company in the same industry in Germany. I spoke with my manager at Wyle and explained why we wanted to move to Germany and that I wanted to join EBV. When we arrived in Germany, I interviewed at EBV, and shortly after, I joined the company. Although we thought we would stay in Germany for one year, we ended up staying for over 8 years until I asked for my transition to Arizona.
After working at Avnet for over 18 years, what prompted you to join Flex?
Lynn: That was a really interesting time, bridging the gap between Wyle to EBV and then EBV to Avnet. While I was working at EBV, Avnet acquired the company and started expanding their global presence. During that transition, I moved to a different role managing strategic customer relationships and supply chain solutions. Then I held various leadership roles and spent a total of 25 years in the industry. It was a great company, and I had great opportunities progressing through the organization, and I kind of was at my dream job as the President of Avnet United and Velocity. I thought how amazing it was to be where I was! But I did feel like there was something missing and asked myself, "Do I want to stretch myself a little bit more?" At that point, I was teaching and helping new employees develop careers, but I felt like I wasn't learning as much. I said to myself, "I am still young, and I could have some career opportunities to challenge and grow myself, my skills – even maybe in new industries." Although I wasn't expecting this change to happen fast, just about 4 weeks later, I received a call from Flex. It was such a great opportunity for a unique role! Flex has one of the most complicated and sophisticated global supply chains in the world so there was a lot for me to learn.
Such opportunities don't always arise like this! So, I interviewed at Flex and met the leadership team, and I thought it would be a great fit considering what I would bring in and also what I would gain. Then I went home and convinced my husband to revise all our plans and move from Arizona to San Jose, CA. It was a difficult decision because I was leaving something behind. I was very comfortable with where I knew the people I worked with for 25 years all over the world.
What prompted this change was primarily around my wanting to challenge myself and see how much further I could grow in my career and I do think it's been a really good fit.
At that time in your career where you were already at a senior level, doing really well, where do you think that drive to grow yourself even further came from?
Lynn: I think it's just an internal part of my nature, I am a lifelong learner so every day, I am excited to learn something new. It is that internal desire to continue to learn and expose myself to challenging situations and to see how I will react, and where I could take my career.
Can you tell us more about the supply chain at Flex?
Lynn: A lot of people don't know what Flex does because we are not a big brand you would buy, yet we build the products for the companies whose brands you buy. Our annual revenue is 25B and we have over 100 manufacturing locations all over the world. We have over 1000 customers whose supply chains we manage and work with 16,000 direct suppliers to buy the needed components and materials, and this all translates into 1,000,000 part numbers. Typically, we need to get all of those pieces at the right place, at the right time, at the right cost to manufacture, and we have over 100,000 people who are in our manufacturing facilities every day. So there's a tremendous amount of pressure on the supply chain organization. We build products across many different sectors, for medical devices, life-sustaining devices, the automotive industry, industrial, cloud, enterprise, lifestyle, and consumer devices. It is very challenging when you're looking at that kind of complexity and a global procurement and supply chain environment.
What has surprised you the most in your career?
Lynn: What surprised me the most I would say is how very few women in leadership positions there were when I started out in my career, and how that really hasn't changed over the course of my career.
Despite all the evidence that more diverse companies and boards actually have better financial returns, we haven't seen the diversity we would like to see, and we still haven't made the progress that I would have hoped for in my career.
I am very happy to say that at Flex, I have the opportunity to work for a woman CEO and with other women on our leadership team.
Can you tell us about an important career risk you took?
Lynn: Joining Flex was certainly a career risk but also an amazing opportunity. When you join an organization like Flex in a senior role, there is always a risk associated with that. You need to make sure you are going to be welcomed by the other senior leaders within the organization, but also the team that you are leading. So, I think there is always a risk when you are taking a new role, whether it's in a new organization or an existing organization. But I felt like at Avnet, when I would get promotions and different opportunities within the organization, it was easier because I knew the people in the process.
Another risk/opportunity I had twice in my career is going from managing a large team to being an individual contributor. Being an individual contributor, I think is something that is not always valued as highly as it should be. Sometimes, a career path is very linear where you just kind of keep advancing within an organization or organizations. I kind of went sideways, with the different opportunities. And what was really interesting about it is that these roles were about the biggest challenges the company was facing at the time and I was given the opportunity to take on those challenging roles.
So I think they are both risks, leaving a company after so many years, or taking on an individual contributor role like that after managing large teams, but the rewards are tremendous!
What is one of the biggest challenges you have faced in your career, and how did you overcome it?
Lynn: Certainly, I would say this ongoing crisis that we are in today. This is the most disruptive global supply chain impact that we have ever seen and I have been in the industry for 27 years. There have been previous supply chain impacts. But they were kind of isolated from a geographical standpoint, like the floods in Thailand or the tsunami in Japan. But from January of 2020 till today, it's just been one impact after another. Every one of Flex's manufacturing facilities as well as our suppliers' facilities shut down and reopened at some point.
So, we had all that production planning but we didn't know if or when we were getting the parts and that's when we started having daily calls on January 20, 2020, to plan for the next 24 hours. We made decisions and we executed on those decisions for 24 hours, and then we would talk again and make new decisions based on our learnings and evolve and adjust every day. I always say a decision is better than no decision because at least we were able to move in the same direction. And so, we started what we called discuss, debate, decide sessions. I would tell people "We are going to make a decision today and live by it for 24 hours." We had these daily calls for about almost 6 months, and I can say that navigating through that time was the biggest challenge I had in my career. I was still relatively new to Flex, so I also wanted to make sure I didn't make a decision that would have some kind of unintended negative consequence.
How do you balance your professional and personal goals?
Lynn: You try to prioritize. It is challenging to have a successful career and be a mother at the same time. You have tofind ways to manage through that. I also think there are just more pressures on women, especially mothers, both internal and external pressures where you are trying to balance it every day. I raised children in a career where I traveled extensively.
There were things I missed as my children were growing up, for example, I missed some birthdays – but we would have a party before the actual birthdays. But when I would be home, I would be "home" and the weekends were only about the kids.
Recently I was being interviewed and asked a similar question and my daughter happened to be in the other room and was listening. Well, what was interesting was when my daughter came in, and she told me afterward, "Mom, in my memory, you were always there." She knows I wasn't there maybe all the time but when I was there, I really was there, and I was an involved mother.
I think so many women need to hear that because people give themselves a hard time, and I want women to give themselves more of a pass because you are trying your best and you know you got a lot of balls in the air. Remember that maybe your 18 year old children will come to you one day and say they hadn't noticed when you were gone.
What advice would you give to younger professionals?
Lynn: Take time to embrace where you are right now. So many people are always wanting to race towards the future. And there are so many learnings and experiences that happen where you are currently at. So embrace that time.
Always look for opportunities. You never know exactly how they will present themselves to you but don't be afraid of an opportunity.
Take some time to do a strong assessment of where you think you want to go. Make sure you have some people that you can look to and advise you. Be realistic in coming back and saying, "what steps do I need to take to get there?" And then enjoy every moment of that journey!
Be prepared. Be confident. Be yourself. You know have to be prepared if you are going to get to that next level. You should be prepared for whatever meeting or presentation you are doing. But then you need to bring that confidence – you are in this room for a reason and people want to hear it. You know you earned this seat at the table, so bring some confidence to that, and then always be yourself. Be your authentic self, because it's so much easier to always be who you are, as you go on a career journey.