My Career Path: Interview with Lisa Kloppenberg, Acting President at Santa Clara University
May 23, 2022
Posted by:

Selen Warner

Category:

Blog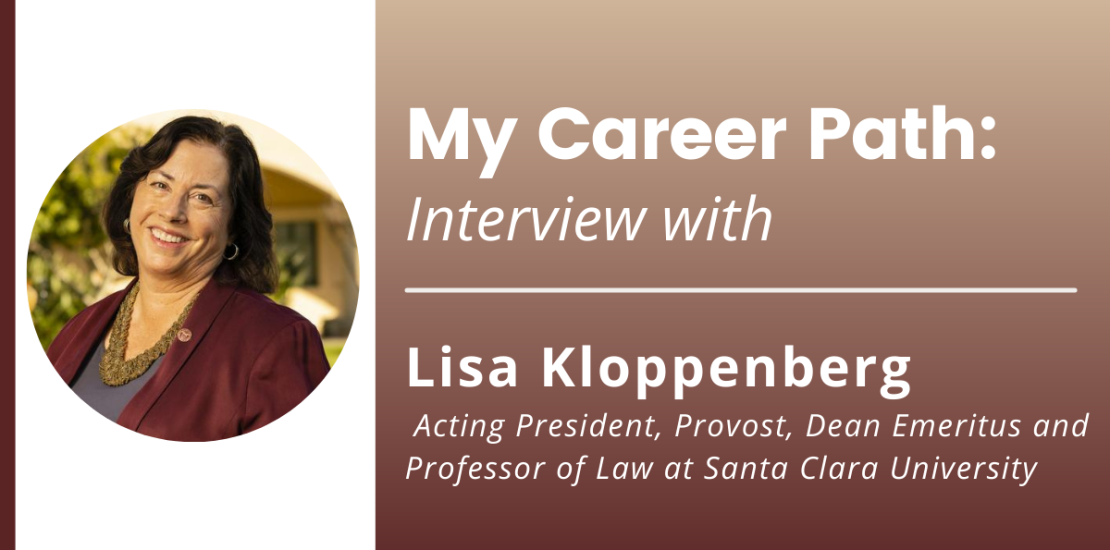 This month, we had the pleasure of speaking with Lisa Kloppenberg, Acting President, Provost, Dean Emeritus and Professor of Law at Santa Clara University, about her career path and the decisions that have contributed to her success. Here at Stage 4 Solutions, we are committed to supporting professionals' career growth, and we believe that one way to enable success is learning from leaders.
Lisa is a well-known expert in Appropriate Dispute Resolution and Constitutional Law. Prior to her appointment as Dean in 2013, she served as Dean and Professor of Law at the University of Dayton School of Law from 2001-2011, where she received national recognition for championing the "Lawyer as Problem Solver" curricular reform and a unique accelerated option for legal studies.
Lisa received her B.A. from the University of Southern California and her J.D. from the University of Southern California Law Center where she was Editor-in-Chief of the Southern California Law Review. After graduation, she clerked for the Honorable Dorothy Wright Nelson of the U.S. Court of Appeals for the Ninth Circuit. Then, Lisa became an attorney with Kaye, Scholer, Fierman, Hays & Handler in Washington, D.C. where she was involved with litigation, arbitration, and mediation of a variety of domestic and international disputes. Subsequently, she became a professor at University of Oregon.
Career Summary:
Santa Clara University, Acting President – 2021 – Present
Santa Clara University, Provost and Vice President for Academic Affairs – 2019 – 2021 (Interim 2019-2020)
Santa Clara University, Dean and Professor of Law – 2013 – Present
University of Dayton, Dean and Professor of Law – 2001 – 2013
University of Oregon – Professor of Law and ADR Center Director- 1992 – 2001
Kaye Scholer LLP, Associate – 1988 – 1992
Feel free to: connect with Lisa on LinkedIn
When you were an undergraduate student at the University of Southern California (USC), what were your career goals?
Lisa: I wanted to be a TV journalist. I studied broadcast journalism and English and enjoyed both of them very much. I worked as an intern for CBS News in Los Angeles and London, and I met a lot of people who were a bit bored 3 or 4 years out of college and said that they wish they'd gone on for an MBA or a law degree, and so that route peaked my interest. Then in my senior year of college, I met a lawyer for the first time in my life, and it was my journalism teacher, and I loved his class about the constitution and the first amendment. One day he said, "Lisa, you should think about law school." Before that, it had never entered my mind, and so I applied at the last minute, and was able to get into USC's Gould School of Law.
After working at Kaye Scholer LLP as a lawyer, what inspired you to pursue a career in academia?
Lisa: This is actually something that had been suggested to me when I was studying at USC Law. They took a group of us, I guess from the top of the class or law review, and the professors told us that we should think about going into the academic world. I had no idea what the academic life was like, and so it was really that encouragement that made me think about it, as well as my mentor, Dorothy Wright Nelson, one of my teachers, who had been a Law Professor, Dean, and Federal Judge. She became a role model and a good advisor for me. Before I worked at a law firm, I worked for her for a year on the US Court of Appeals for the Ninth Circuit and she was always encouraging her clerks to go into teaching.
What are the factors that led you to move from being a professor at University of Oregon to Dean at University of Dayton and then to Santa Clara University?
Lisa: I really loved being a professor. I like the relationship with the students. Everything was very positive, and I was doing well with my scholarship. I did my articles for tenure, and then I was tenured, and then I got a book published. It was really very rewarding. And we had 3 young children at the time. So, it was a good life with a lot of flexibility. I had a lot of help from my husband and my mother-in-law, but also a lot of flexibility as an academic. You can grade at night and read on the weekends and work out your schedule.
After I got tenure and started a conflict resolution program at the University of Oregon, Judge Nelson called me up and said, "Lisa, we need more women in dean roles. You should think about being a dean." I had just gotten tenure and our kids were young, so I wasn't sure if it was the best time in my life. But I put out some feelers and did some interviews and I was able to have a chance to be a dean at a Catholic and Marianist university in Ohio. I had never been at a faith-based institution before, but I found that the values were a really good fit. They, like the Jesuits at Santa Clara University, valued equality among people, taking care of those at the margins of society, and promoting peace and justice. We had 12 very good years in Dayton, Ohio, raising the kids, and learning to be a dean and after 10 years, going back to teaching and more writing.
Then, a good friend called me, an alumna of Santa Clara University, and she said, "Lisa, I know you have family connections in California. You really should think about the deanship at Santa Clara University. It's open, and I know that Santa Clara University really cares about its mission." So, I rather reluctantly applied, and interviewed on the last day, and was very fortunate to find Santa Clara University, because it's such a good fit both professionally and personally.
I quite like the world of legal education because the dean gets to do everything from admissions to alumni work like a college president — everything except athletics. And yet, this idea of following in my mentor's footsteps was really important to me, and she had done many things to improve legal education as a Dean. And so those are some of the things I was trying to do as well, to teach students more about conflict resolution, to make sure that they had lots of hands-on opportunities for learning, and to really ensure that they had a lot of support from the alumni, in terms of scholarships or programming and employment connections. I really tried to build bridges between the students, faculty, staff and alumni.
I saw some things I wanted to change in legal education. So, I thought that I would have more power to do that as a dean. I only had two female teachers in all of law school, so I knew that the profession still had to change. Now, we have more than 50% women in the seats in the classroom, and Santa Clara University is quite good at the male-female professor ratio. But when I started in 2001, I saw a lot of need for continued change in terms of gender, race, ethnicity, and just making the whole world of preparing students for the justice system look more like our society, more like the world. That was really important to me.
I was Dean at Santa Clara University Law for 6 years. I really enjoyed it and cherished the group of fellow deans. It was a wonderfully supportive group, and then our Provost left suddenly, and so I was asked to step in as interim Provost, and at that time I was the senior Dean, and so I did that really out of service. Before that, I never really wanted to be a Provost or President. But I came to really enjoy it, learning more about the broader university and more about the undergraduates. When Father O'Brien became President, I applied for the Provost role and competed in a national search, and was able to get that. And then, unfortunately he resigned, and I became Acting President.
I am ending now my three years in central leadership by choice. I really learned a lot in these years. It was also a real stretch and a challenge with Covid. But I will say, it's been a real thrill to learn, and it's been a blessing to serve my colleagues in Santa Clara University, and to promote its wider mission. I really have enjoyed the 3 years, but I'll be grateful for a sabbatical and some rest.
What has surprised you the most in your career?
Lisa: I guess it should not have surprised me, but at every place I went, I found very willing colleagues. You can look at the world and see resistance or look for cooperation, and I have really been able to find people to collaborate with. We don't agree on everything, but we can collaborate on projects and get a lot done, and so, that has surprised me in a really pleasant way. Also sometimes, the students can be a source of support because they are passionate, whether it's about climate change or the wrongfully convicted. And then sometimes there will be faculty and staff or alumni or donors who are supportive. There are many constituents in the University, and that provides a lot of ground for collaboration. I found support from men and women, young and old who could help me learn how to be a better Administrator, Dean, Provost, and President because there is so much to learn. These are vast fields and also very complex with a lot of regulation. There is always something new to learn. If you are willing to engage with others and build on their expertise, it just makes you better.
Can you tell us about an important career risk you took?
Lisa: Leaving the University of Oregon to become Dean at the University of Dayton at the age of 39. The University of Oregon is an established Research One organization, and my husband and I are both from the West Coast, from California. All our family was there on the West Coast, and we had never lived in the Midwest. I had never worked for a faith-based institution, and I was the youngest law dean in the country at the time. So, it was quite a risk! And, I had not come up the traditional way where you start as the Chair of the Admissions Committee and then Associate Dean for academic affairs, etc. I hadn't had those opportunities yet. I had had some good opportunities at University of Oregon but I was young, and so I think they really took a chance on me at Dayton. I was able to help them get a lot of national exposure. We revised the curriculum and created a lawyer as problem solver curriculum, with a lot more hands-on opportunities, and capstones like in business school, and won an award from the Carnegie Foundation for the advancement of teaching. It was very rewarding but when I started, it was risky. When we moved there, we didn't know anyone in Dayton and my husband didn't have a job, so it was really a leap of faith to try to go and make it work, and it did work out beautifully.
What is one of the biggest challenges you have faced in your career, and how did you overcome it?
Lisa: A lot of challenges! Every school has its unique set of challenges. Certainly, Covid has been a challenge, but we were able to rely on a really good health team, with expert faculty and staff, who really kept up on the literature and provided us with the latest data on the State, the County, region and the world. When we had to make hard decisions that we knew would not please a lot of people, we had great guidance from a core team. That has probably been the challenge throughout my career that I had to learn a lot, which is one of the great benefits of this administrative work. There is a lot of variety of issues and things you need to learn, and there is always a new challenge. I like being a student, so I delved into learning, reading a lot, figuring out who the leaders and experts were on that subject, and working with them.
At Dayton, I built a national network of other law deans and leaders in legal education, who could advise me, and who I could work with on projects, whether it was around making our schools more diverse, improving bar passage, changing the curriculum, whatever the challenges and the needs of the day were, and that has very much continued at Santa Clara University, working with a lot of really smart, wise people. We can work together on problems and keep schooling ourselves. You need to keep learning in these jobs.
You see a challenge as an opportunity to learn and collaborate. Where do you think this unique perspective comes from?
Lisa: I think it's partly my personality, just being in the middle of my birth family, trying to make peace among everybody, the siblings, and parents. It is also the influence of my mentor, Dorothy Wright Nelson. Hers was the first class in law school where I had heard about negotiation, mediation, and arbitration, and that there are alternatives to battling it out in court. That has become one of my areas of scholarly work, conflict resolution. In all circles, whether it's in a family, a faith community, a business, or a school, learning these ways, to listen to each other, to try to be respectful across differences, can make your culture much better.
How do you balance your professional and personal goals?
Lisa: With great help from my husband and our family. It is hard! It is a balance throughout your life but there are times when the work is busier and takes precedence. We were very good at making sure we enjoyed the holidays and summers together. When I take a vacation, I really try to stay away from email. On the other hand, there are times, particularly in the Dean, Provost, and President jobs, when the job had to take a lot of time. I do appreciate the flexibility of my family, my husband, and my children.
For example, I decided not to pursue the permanent president job at Santa Clara University, although I love Santa Clara University's mission. I love the people. I want to continue to help it for the rest of my career. But I decided it was too much of an imbalance between the personal and professional life in that particular role. It's really consuming on evenings and weekends and 24 hours a day, you just have to be prepared for a crisis with a student, a faculty or a staff member. I was fortunate to have 15 months in this role to learn that I don't want to do this for 10 years. So now, I am looking forward to being a professor halftime in the law school, and then I will help the University with fundraising, which I love. I love being the mediator to connect a person with an idea and another person and build a program or build a scholarship fund to honor someone or one of their loved ones. I am looking forward to being with the students more. I really like advising and mentoring them. Now it's our turn to listen to the young people and share a little bit of our wisdom if they're willing to listen to it.
And I just had a book come out from Oxford University Press about my mentor so I will be promoting that book as well.
Can you tell us about your recently launched book, The Best Beloved Thing Is Justice?
Lisa: It is about my mentor, Dorothy Wright Nelson, and her pioneering role to go to law school and be one of two women in her class. It's about her family, her faith, and her career in the law from Law Professor – she's one of the first tenured female law professors in the country – to Dean to Judge. She was Dean at USC law for over 13 years, and during that time for 5 years, she was the only female dean at an ABA-accredited school in the country. She is now a Senior Judge on the US Court of Appeals for the Ninth Circuit. I was very fortunate to have such a mentor!
The Best Beloved Thing is Justice, The Life of Dorothy Wright Nelson:
Dorothy Wright Nelson was a prominent federal judge on the level just below the U.S. Supreme Court for over 40 years. One of the early tenured female law professors and one of the rare female deans in the U.S. legal academy in the 1960s and '70s, her expertise was in reforming courts to make them more just and accessible for all people. When she became a federal judge in 1980, she helped to make the federal courts more efficient and provide litigants with alternatives – including mediation and arbitration – to resolve cases without greater expense and delay. An ardent believer in more peaceful resolution of conflicts, Judge Nelson educated judges around the world on conflict resolution and the rule of law, often while engaging quietly in human rights advocacy for persecuted Bahá'ís around the globe. Her Bahá'í faith also inspired her judicial opinions providing more equality and due process for the marginalized, including the poor, racial minorities, immigrants, mentally ill and the powerless. Dorothy and her husband, a state court judge, balanced their professional achievements with their personal commitments in a manner unusual for their time. They devoted considerable energy to raising their two children, spending time with their extended family, and engaging in Bahá'í activities (including world travel, youth camps, weekly Sunday School and "firesides" in their home). This book captures the life story of an extraordinary female leader and trailblazer in a highly traditional, male-dominated profession, unafraid to challenge the status quo in her pleasant, optimistic, determined and collegial manner.
What advice would you give to younger professionals considering a career in academia?
Lisa: Get to know an academic. Don't be shy to email and say, "I'm interested in this — Who should I talk with?" Maybe they can find a person that would be in your discipline, your area. Don't be afraid to ask your teachers as well, even to go back after 5-10 years in the industry and say, "You really inspired me. I'm thinking about becoming a teacher or teacher-scholar. What advice would you have for me?"
One great thing about being in the academic world, we, as teachers, can be mentors, or we can connect our students to alumni, and others who can be mentors to them, because everybody can benefit from a mentor, and then a little kitchen cabinet, your circle of wisdom figures that you go to when you have a tough decision, or a new challenge, or something. I would advise finding a mentor and really working at that relationship to sustain it over your career, and then finding your kitchen cabinet, which may change from job to job and time to time, or depending on what the issue is. But really having that wise circle around you to support you, to advise you, and to challenge you when you need it.
It is a wonderful life; it is a great career. First, you have a lot of intellectual engagement. In your scholarship, after tenure, you can always pursue a new path. And I have heard people at Santa Clara University speak eloquently about that. They started here and then they got intrigued with this issue and then they built on it and so on. It is a really fulfilling career mentally. Then also, emotionally, it is very satisfying because you get to work with the next generation – hopefully, we are leaving the world better because we are educating more people. It is a long-term hope in the academic world. It is not like a fast startup where you can see the results right away, but it is an investment in our next generation and in youth. To me, that is so important for solving the problems of our complex world.