My Career Path: Interview with Laura Francis, CEO of SI-BONE
March 29, 2022
Posted by:

Selen Warner

Category:

Blog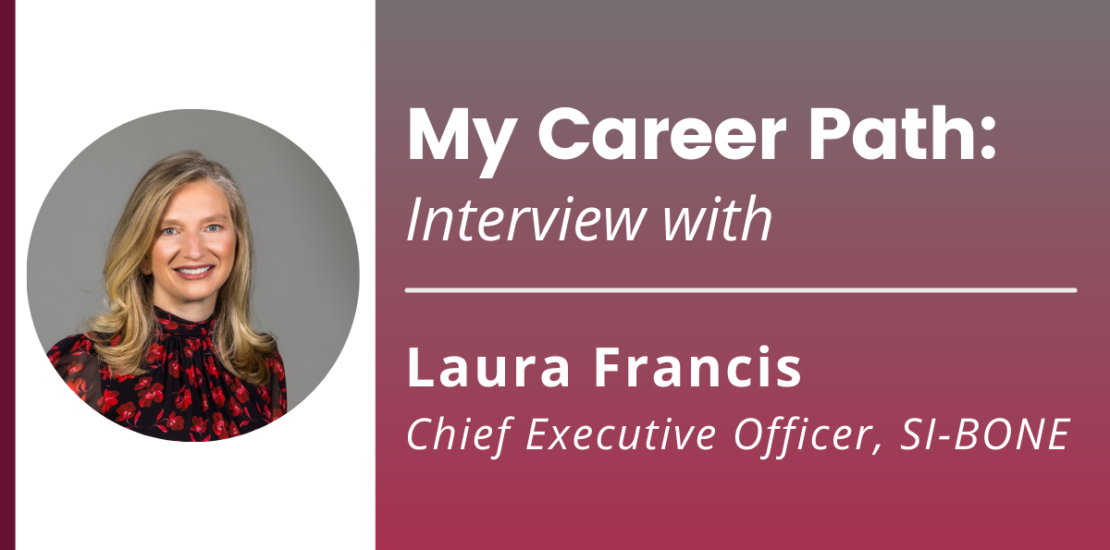 This month, we had the pleasure of speaking with Laura Francis, CEO of SI-BONE, about her career path and the decisions that have contributed to her success. Here at Stage 4 Solutions, we are committed to supporting professionals' career growth, and we believe that one way to enable success is learning from leaders.
Laura Francis is the Chief Executive Officer and a Board Member of SI-BONE, Inc. (Nasdaq: SIBN), a Silicon Valley based high-growth medical device company. Laura played a pivotal role in bringing the company public in October 2018 and building the operations of the business. Prior to joining SI-BONE, Laura held other executive and leadership roles with public and private life science companies, including Auxogyn, now part of Progyny (Nasdaq: PGNY), Promega Corporation, and Bruker Corporation (Nasdaq: BRKR). Earlier in her career, she was an Engagement Manager with McKinsey & Company and Audit Manager with PricewaterhouseCoopers. Laura is a Board Member of Shockwave Medical, Inc. (Nasdaq: SWAV), where she serves as Audit Committee Chair and Compensation Committee Member.
Feel free to: connect with Laura on LinkedIn
When you were at the University of Wisconsin and at Stanford University, what were your career goals?
Laura: When I was in high school, I actually really loved music, history, and arts, and even thought about studying music! But when I was in college, I was very practical about my choices. With my education, I wanted to be able to support myself and my family, so initially, I had very basic goals that were more around financial security. After debating between engineering and business, I ended up deciding on business, thinking I would enjoy it more.
Looking at my Stanford MBA application, I think I have exceeded even my then lofty career goals. My big goal was to be a CFO of a small private company, and I ended up becoming the CFO of a couple of medium-sized growth companies, and now, I am the CEO of a public company and on the boards of public companies. I just kept on climbing the ladder, and just kept getting to the next place while having fun with it.
How did you decide on your first job?
Laura: Since I was the first person in my family to go to college, I didn't have mentors who could help me navigate some of those early career decisions. Everyone who had an accounting degree was interviewing with the big 8 public accounting firms, and I just kind of followed that path, because that's what people were doing, and I really didn't have any other insights from a career perspective. I selected PwC, the one that paid me the most money, where I felt a connection with the people.
Being the first person in your family to go to college, where do you think your drive came from to succeed or to even go to college?
Laura: I grew up in the inner city of Chicago in a working-class neighborhood until I was around 10 years old, and I went to public schools. Then, when I was 10, my parents decided to move us to a small town in Southern Wisconsin because it was actually dangerous to go to school in my neighborhood in Chicago. My dad kept his job in the inner city of Chicago, and he drove 4 hours a day to get to and from work in order to allow us to get an education in a safe place. This alone showed me the extent my parents were willing to go for my siblings and me to get an education.
But what really gave me my drive was living in this small lake town in Southern Wisconsin, where there were "haves," and "have nots." The people that lived on the lake were the "haves," and I lived in a subdivision that was lower income. It wasn't even the material wealth, but it was the respect and status that came along with living on the lake. At the time, I worked in food service and also worked at some of the parties for people that were on the lake, and they were all educated people – doctors, lawyers, or business people. I thought these people weren't any smarter than I was and that I had a better compass than a lot of them. The "haves" gave me motivation because I didn't want to be stuck in a place that I didn't choose, and I saw education as the way out.
As you progressed through your career, how did you assess new opportunities?
Laura: I like to have long-term goals, but I am willing to pivot when opportunities arise. To assess opportunities, I do research and network with a lot of connections who are knowledgeable about the particular company or position. Honestly, I have not found that research to be particularly helpful. Some opportunities that looked great were not, and others that looked challenging were amazing. SI-BONE is a great example of a situation that was a diamond in the rough. The company was struggling with reimbursement for the procedure from payors at the time. Survival was not assured. But I liked the people and thought I could help make the company successful. I have loved working shoulder-to-shoulder with passionate people to change patients' lives.
What has surprised you the most in your career?
Laura: I'm 55 years old and having more fun now than ever in my career. I always thought that I would be put out to pasture, and, that this stage of my life would be dull. Nothing could be further from the truth!
After achieving all this success, what makes your life fun and fulfilling now?
Laura: It takes a long time to really perfect your craft. At this point in my life, I have all this experience – I worked at public companies and private companies on both the financial side and the operation side, and now I am heading up the business as a whole and sitting on boards. The reality is, feeling like you are good at something gives you a sense of purpose and a feeling of self-worth and confidence. At this stage, I am a pretty transformed person. When I was younger, there was this intense drive to succeed and be respected. Now, it is almost the opposite where I am focused on: how do I enable other people, how do I have a positive impact on the world; health care, patients, our investors, our employees, our surgeons. On the personal side, too, I am very happy with where I am in my life. Also, working with this incredible group of people – whether it's the employees or the surgeons that we work with, or the other members of the boards – all of them have really become a very important part of my life, and it is very fulfilling to have this. So I think that is why I don't think I will ever stop doing what I am doing! It really just gives me this incredible sense of well-being.
Can you tell us about an important career risk you took?
Laura: Taking time off before I joined SI-BONE. I wasn't enjoying what I was doing. And, I was financially secure, so I was able to consider many alternatives. I took off for around nine months, took creative writing classes, and wrote a young adult novel. That time helped confirm what I wanted to do with the rest of my career, reducing anxiety and making me better in all aspects of my work. Doing what I wanted to do vs. what I felt I had to do was incredibly freeing and impacted every aspect of my life.
After taking this time off for nine months, how did you decide to join SI-BONE?
Laura: Before I started at SI-BONE, I got to that incredibly privileged point of financial security where I didn't have to do anything because I had to, and I could finally say: what do I really want to do?
What is crazy is I went back to exactly what I used to do. But I realized that it was more like, I am doing this because I like it, I am good at it, rewarded for it, and surrounded by like-minded people. I was much more selective with opportunities. There were certain companies and certain people I wanted to work with and others that I didn't want to. It was more about the people and purpose of the organization. Will I really enjoy being a part of that? So, when I was considering my next move, it was much more based on doing research into the people as opposed to the opportunity.
What is one of the biggest challenges you have faced in your career, and how did you overcome it?
Laura: Being a mother as well as an executive. Both are all consuming jobs if you are doing them well. When my children were young, I felt that I was holding onto my career by my fingernails. I am so grateful that I prioritized my family. My children are now grown. They are wonderful human beings, and I consider them both to be my best friends. You can't get that time back. I am jealous of women who have made this look easy: I have met Ruth Porat from Google and Sheryl Sandberg from Facebook. I really don't know how they did it all so graciously. I found the situation to be fairly messy. But, I was able to start over a few times in my career without much collateral damage.
How do you balance your professional and personal goals?
Laura: I had to prioritize being a mother when my children were younger, but now I am able to devote most of my time to my own pursuits. Today I focus on work-life integration. Many of my work colleagues are friends. I find ways to get personal enjoyment from work travel. And, I gain tremendous personal satisfaction knowing that the work I do every day is purposeful to a lot of people, whether it's our employees, patients, surgeons, or investors.
What advice would you give to your younger professionals?
Laura: Don't worry so much about the future. Try some things. Do your best work. Surround yourself with good people. Find purpose. And, go for it. Also, be as purposeful about your personal life as your professional life. Your personal life is more important than your professional life. And the great thing is with a satisfying personal life, you will be a better professional.
Can you tell us more about your experience as a woman corporate board member?
Laura: I have loved being a member of the Shockwave Medical board of directors. I joke around that, prior to their IPO, the board was looking for an audit committee chair, current CFO, IPO experience, Santa Clara based, preferably female, bringing the list of candidates to one, me. The company looked good based upon my so called research, but I had no expectation of how successful the company would become in such a short period of time. The first couple board meetings were a little intimidating since the board was filled with luminaries who had worked with one another for many years. But, I understood that my experience as a financial and operational expert brought something unique to the table. So, I leaned into those strengths while learning about the people and the company. If there is one piece of advice I would give to women, it is to make sure that your voice is heard. Get used to discomfort, because that is when you are learning.
What advice do you have for women leaders pursuing board membership?
Laura: I always advise women who are interested in a board seat to understand their value proposition to a board. What do you provide that they need? What can you do better than anyone else? Then put that into your board bio and go after roles where you are a fit. Also, most opportunities will come from your network, so cultivate one. Then, let those people know your interests.