My Career Path: Interview with Gloria Goins, Chief DEI Officer, Cisco
August 29, 2023
Posted by:

Selen Warner

Category:

Blog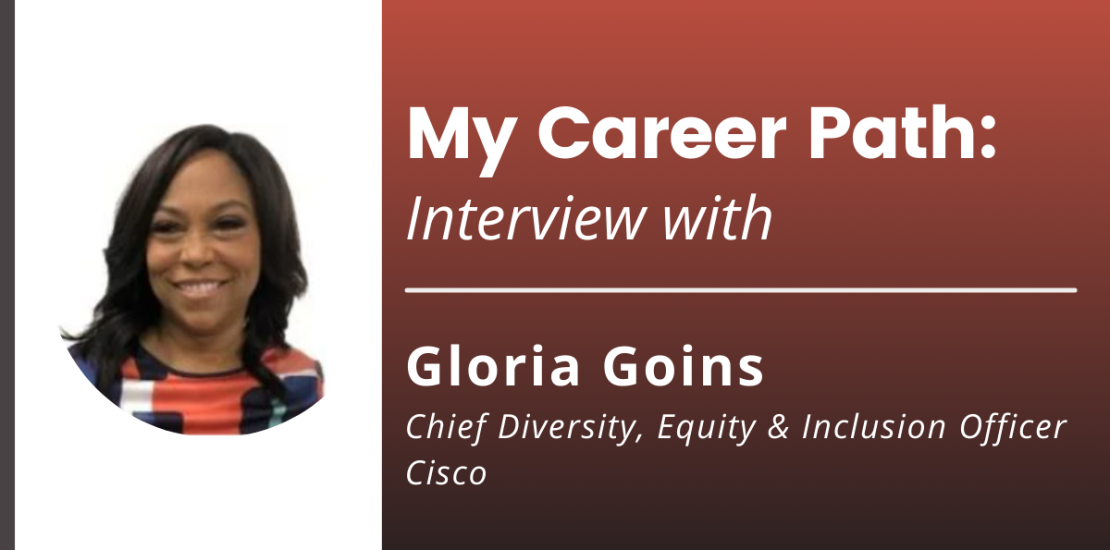 This month, we had the pleasure of speaking with Gloria Goins, Chief Diversity, Equity & Inclusion Officer of Cisco, about her career path and the decisions that have contributed to her success. Here at Stage 4 Solutions, we are committed to supporting professionals' career growth, and we believe that one way to enable success is by learning from leaders.
Gloria Goins is a dynamic senior business executive with a rare background in operations, sales, marketing, diversity and inclusion, corporate social responsibility, human resources, and law. Currently, Gloria is the Chief DEI Officer at Cisco, where she oversees the company's DEI strategy and solutions, Inclusive Communities (Employee Resource Groups), and fairness work. Her team's mission is to remove barriers to inclusion and belonging to ensure the company's internal culture reflects its values.
Most recently, Gloria was the Head of Inclusion, Diversity and Equity for the Sales, Marketing and Global Services for Amazon Web Services (AWS). Prior to her role at AWS, Gloria served as the Head of Health Equity and Business Development at Amazon Pharmacy, reporting to the CEO. In that role, Gloria was charged with growing revenue and building new business partnerships with a focus on underserved customers and was recognized by Becker's Hospital Review as one of the top five Amazon health care executives to know. Prior to joining Amazon Pharmacy, Gloria was the Global Head of Diversity and Inclusion for Amazon's worldwide consumer division and supported nine business leaders in expanding the company's brand, revenue and loyalty among diverse employees, customers, suppliers and communities.
Gloria uses her relentless ability to thrive in ambiguity to reach diverse customer markets. Notably, Gloria was recruited to build the Hispanic business strategy for The Home Depot, where she helped to launch the first paint color palette that reflects Hispanic culture (Colores Origenes), which became the highest selling paint brand at the company. While at Prudential, Gloria developed and managed the company's largest affiliate marketing program that generated $100 million in revenue and expanded the company's brand and market share in the African-American community.
A former faculty member at Georgetown University, Gloria served as the founder and chair of the Georgetown Chief Diversity Officers' Roundtable. She holds a master's in business administration from Mercer University, a law degree from the University of Pennsylvania School of Law, and a bachelor's degree in psychology from Stanford University.
Can you tell us about your upbringing? Who were your role models?
Gloria: I think the best way to understand my upbringing is to recognize that I was born and raised in Miami, Florida, and I am the daughter of a Bahamian immigrant who came to this country during the height of racial segregation in America, looking for the American dream. My mother was born in Miami, but her parents were also from the Bahamas, so I have roots on both sides of my family. My father, though not well-educated, was very smart, and instilled in me values that are still evident in how I show up today: The importance of hard work, respecting all people regardless of who they are or their faith, placing a strong emphasis on faith itself, and valuing education. My father, lacking his own education, expected my brothers and me to pursue higher education. He demanded we bring home nothing less than A's or B's, which I found amusing because he couldn't assist with our assignments. Nevertheless, that was his expectation, and it greatly influenced who I am. I appreciate the immigrant experience and the value of resilience. Despite arriving in a country unwelcoming to him, my father remained positive and resilient, always displaying an infectious laugh.
When you were at Stanford University, what were your career inspirations?
Gloria: It is interesting because my career inspirations actually started before I got to Stanford. I wanted to be a lawyer from the time I was 6 years old, inspired by two things. The first is my older brother, who is 10 years older than I am. My brother served as a role model and hero to me growing up, and he wanted to be a lawyer. So, I wanted to be like him. Second is Perry Mason, a TV show I watched while growing up, which fascinated me. However, the real inspiration for me was seeing the law as a vehicle to provide voice and advocacy to those who lacked them. I remember my father asking me shortly before he passed away, "Why do you want to be a lawyer?" At that time, I felt concerned about his question, but I responded, "Because I want to show people who don't know their rights what their rights are." He replied, "I believe you're going to do that." That's always been my inspiration: To provide platforms for people who don't realize the power of their own voice or lack a platform.
How did you decide on your first professional job?
Gloria: My first professional job was decided through an interview process when I was in my second year of law school at the University of Pennsylvania. I had decided that I wanted to go back to my hometown of Miami to practice law after graduating, so I focused my attention on finding law firms based in Miami, utilizing a process offered by the University where you could research law firms and sign up for interviews. I had familiarity with some of these law firms because the parents of friends of mine from growing up were actually working there. Also, I spent a lot of time looking at the demographics of those firms – how many women, how many people of color, how many partners, how many associates, etc. I really wanted to get a sense of what it would be like to be one of the few black women lawyers there.
Going through the interview process, I landed on this law firm called Find Jacobson, which was my very first professional job. What it really came down to was "click." Dr. George Frazer, my mentor, refers to "click" as the marriage of chemistry, fit, and timing. All of them have to come together. When I went for my interview at Find Jacobson, I instantly clicked with the managing partner who was conducting the interview. Following the interview, he and I walked back to the law school together and kept our conversation going. It was so natural and comfortable that I knew that was the place for me. When I graduated from law school and joined Find Jacobson, it was an unequivocally incredible environment for me, confirming that I had made the right choice in my first professional job.
What factors influenced your decision to change your career from law to HR?
Gloria: I would love to tell you that I made this strategic, deliberate decision, and it was all planned, but it wasn't. It's really just something I share with a lot of people – being open to, what Robert Frost calls, the roads less traveled. So much of my life, education, and professional development had centered around being a lawyer. In fact, I wanted to be a judge!
When I was an attorney for a company called BellSouth Cellular, which is one of the predecessor companies of what is now AT&T Wireless, I was in the legal department and doing really well. One of my main internal customers approached me and said, "We are starting this new company called Cingular Wireless, and there are three jobs I want you to consider." One of the jobs, to be frank, was to go to D.C. and become a lobbyist – which was actually what I wanted to do. I am a people person, and I find that I click with many people I meet for the first time. So, being a lobbyist seemed like the perfect next role for me coming out of the legal profession. But that job would have required me to move to Washington, D.C. Unfortunately, my father, who had been a role model and inspiration, was diagnosed with terminal cancer at the time. So, logistically and emotionally, it was not an ideal time for me to move.
One opportunity that sparked my interest was to start the very first diversity and inclusion program at Cingular Wireless. As part of being an attorney, I had drafted a statement of commitment to diversity, which is now the legal standard for what corporations commit to in terms of diversity. This statement has been signed by over 1,000 general counsels who believe diversity is important to business. When businesses who value diversity select their law firms, they want firms who also value diversity as a value proposition. I had the opportunity to draft this commitment and then approach other companies to draft it as well. It helped shape how diversity, equity, and inclusion manifest in the legal profession. So, I mention this to say, I had some prior experience in this space, which led me to decide to start this program 23 years ago. It was driven by not wanting to move and disrupt my caregiving role for my father. Also, I recognized that, although it wasn't what I initially expected – being a lobbyist— it did provide a platform for people who didn't know the power of their own voices and needed advocacy.
As you progressed through your career, how did you assess new opportunities?
Gloria: I am a person who is really defined by purpose and passion. We can call it instinct, gut, or click. So, for me, as I look at opportunities that come to me, I try to view them through the lens of purpose. That is one of the reasons why I am excited to be at Cisco. Cisco is the only company that I have worked for that not only has an articulated purpose, but whose very purpose is to power an inclusive future for all.
My purpose is to provide platforms for talented people and communities that need empowerment and recognition for their value. From there, I assess how a role or company aligns with my purpose and passion, whether it gives me energy, and if it provides a platform to be my authentic self. My current role is the most aligned with my personal purpose and passion than any other in my career.
I tell the people who I coach to do the same. We often make career decisions based on our resumes or what others tell us, but it doesn't resonate in our hearts. When purpose and passion collide, that's where the joy and energy come from in your work. When everything aligns, all things click.
What has surprised you the most in your career?
Gloria: What surprised me the most is that, when I have taken opportunities I didn't plan out or didn't see coming, they have often been the best ones. Especially if you're like me – type A, who plans everything out and wanted to be a lawyer from the age of 6 – when you stick to these plans, you might miss the opportunities that the universe brings you to take you to new places and give you platforms or relationships that are transformative that you couldn't have envisioned or planned. So, in many instances, you have to take a leap of faith and match it with your purpose and passion. You might think, "I never saw myself doing that." Yet, for some reason, you feel drawn and attracted, sensing purpose and passion. Thus, you lean into it, seeing where that path leads you. That's what surprises me.
So, if you had asked me 23 years ago or told me that I would become a Chief Diversity, Equity & Inclusion Officer at a tech company named Cisco, I would have said absolutely not. First of all, what is diversity, equity, and inclusion? And what is Cisco? As the saying goes, the best-laid plans of mice and men often go astray; the most surprising and impactful opportunities stem from the unplanned, unseen ones.
Can you tell me about an important career risk you took?
Gloria: I think I would say moving from being a lawyer to being a DEI professional when nobody knew of DEI was a career risk. However, I think the one that is probably the most salient is in 2014, when my husband was given a promotion. He and I at the time both had jobs we loved, and his promotion required him to move to Maryland. Both of us relocated, and I had to find a new role. I remember that even though I was looking at other roles, there was one particular role at a 200-year-old, Catholic nonprofit healthcare system that really spoke to me. I'd served on 22 nonprofit boards, so I certainly understood and valued nonprofits, but I was never an employee, so it was a risk. And it was in health care – I had absolutely no experience in health care whatsoever. So, it was a new city, new structure and organization – nonprofit, healthcare – and very complex, literally dealing with life and death. It was a big risk and a very steep learning curve for me.
What's really fascinating about that – sort of getting together my conversation about these roads less traveled and just being open to things that are not on the plan, things that are not on your map and your checklist – is when I look back on the experience that I got at Mercy Health, which is the name of the organization, I am using it today here at Cisco. So, one of the things that I get to do at Cisco that gives me joy, passion, and purpose is not only to use my DEI expertise to bring value to Cisco's business, but also to bring value to Cisco's customers, partners, and suppliers who understand that DEI is an inextricable piece of their business success. Today, I am working with three of Cisco's healthcare customers who want to talk with my team and me about how we come together with purpose, passion, and click to help address health disparities and improve the lives of underrepresented, underprivileged, and underserved communities. So, I am actually having the opportunity to use that healthcare background today to partner with and serve our customers.
What is one of the biggest challenges you have faced in your career, and how did you overcome it?
Gloria: I think one of the biggest challenges I faced has to flashback to when I was the Chief Diversity Officer for Home Depot. I was hired by one CEO with whom I had a great relationship—we still do, and I have a huge respect for that person's leadership and support for diversity. When he left the organization, a new CEO came in with a completely different philosophy about everything from diversity to community affairs to HR, and began to unravel much of what the prior CEO had done. One of the things the new CEO did was eliminate my entire organization. He said, "We don't need that." My entire team was eliminated in this restructuring. What was interesting about this is that I was recruited specifically to build the DEI organization at The Home Depot from scratch in a job that I actually loved. So, the restructuring was very challenging.
But, I want to mention what ended up happening as a lesson for young professionals and professionals in general. While I was at The Home Depot for six years, I was netweaving. When people think of networking, they think of, "I am going to network, I need to go meet this person because this person has something I need." In contrast, the concept of netweaving is that you give without looking for a return–without a quid pro quo. You say, "I have something that my team member or colleague needs and I am just going to give it to them. I am not looking for anything in return. I am just going to pay it forward." Because DEI was a relatively new concept, I would have new Chief Diversity Officers from companies all across the country – some of whom were my competitors – call me to just pick my head, and I would give them free advice, free consultancy, and free tools. I believed that if I could raise the efficacy of everyone who did this work, in the spirit that a rising tide lifts all boats, I would, in fact, help myself and everyone else. So, when my whole department got eliminated, a couple of things happened: without picking up the phone, people started calling me and The Home Depot said, "Yes, we are eliminating your department, but we still need your help." My boss at the time said, "I need you to open up a consultancy, and I will be your first client." So, The Home Depot was my first customer. Also, without picking up the phone, other people called me and said, "Hey, Gloria, I heard that you now have this consultancy. You helped me then; can you help me now?" And literally, every single customer I got was through a connection that I had built through netweaving. It was challenging. I think that it is important to understand the importance of sowing goodness and goodwill into the universe because it will eventually come back to you, especially when you are not looking for it.
How do you balance your professional and personal goals?
Gloria: It is difficult! I would love to say that I have this down to a science, but I don't, and it's a constant struggle and juggling act. I am a wife, married to my best friend of 21 years, have a soon-to-be 20-year-old daughter who unfortunately had some medical challenges, I am a pet parent; I have a dog. I am relatively new in my role at Cisco, and I've got big goals and dreams for my team, for the company, for our business, and for the world that we serve.
I try to do a couple of things to find balance. First, I lean on my spouse whom I call my conscience, my meaning. When I'm not sleeping enough, or not eating enough, or not hydrating enough, or when I need to shut down the computer, I try to listen to his voice: "Okay, it's time to shut it down." Also, I just have simple rituals. Every Saturday, I walk four miles with my dog. I go to the beach every month, just to relax, pick up shells, and read a book. I constantly try to find balance, but at the end of the day, I also try to put first things first. Sometimes in the hustle and bustle of all the things we have, we forget that our personal health and well-being, and the personal health and well-being of our family, are paramount. And I've often not made the right trade-offs between work and my personal well-being and my family's health. So, I am constantly trying to make sure that I am balanced, and it is not just about having balance, it is having the right balance and the right priority, because if I don't take care of my body and my well-being, then I won't be able to accomplish either my personal or my professional goals.
What advice would you give to your younger self? Younger professionals?
Gloria: Three things come to my mind. The first one is to listen to your older self. There is a whole saying, Youth is wasted on the young, right? And it's this idea that, when you get all of this advice when you're young, you wouldn't be able to appreciate it. Listen to people who are more experienced.
The second piece of advice I would give is to make sure you are a student of finance and business, both in your personal life and in your professional life. My team knows that I challenge them to be really well-versed in, and a student and partner of, our business here at Cisco because I don't think you can be a functional business partner if you are not business savvy or don't know the company's business goals, but you also have to apply that on a personal level. You have to make sure that you are doing things like budgeting and taking advantage of your 401(k). Here at Cisco, we have an employee stock purchase plan along with the 401(k), and tons of other benefits. So, know what those benefits are, and make sure you've got a well-thought-out financial retirement plan in partnership with your company, as I do.
Lastly, getting all of this together, is the importance of relationships, the importance of networking, and the importance of netweaving. I think particularly when you're young, sometimes you think that all you really need to do is just put your head down and work and grind. You don't take time to sort of pause and build relationships with your manager, your team members, to build mentors, or to have sponsors, and you miss the power of having those relationships that guide you, that keep you balanced, and bring in new opportunities that re-energize you.
To summarize, the most important things are to listen to people who are wiser, be a business student and partner for yourself and your company, and most importantly, never, ever, underestimate the power and the need for really healthy, authentic relationships.
What advice would you give to women and diverse individuals aspiring to secure board membership positions?
Gloria: I would advise them on a couple of things. If there are opportunities for you to attend programs that prepare you for board membership, that expose you and give you opportunities to serve on boards, I would encourage you to do that. There are a lot of free or low-cost programs out there. I personally did a program through Atlanta Life Insurance Company and the National Association of Corporate Directors. It was a very intense six-month program that prepared me to serve on a board and gave me a mentor and the resources that I needed. In fact, the board I now serve on that I got introduced to, Gaia, was because of a classmate who works for Gaia.
The second piece of advice is networking. It's the power of your network. And the third is really important: Don't underestimate the value of who you are and your story. Many professionals, particularly women and people of color, may not think that today they are qualified to be on a board, or they don't have the right skills, or the right story. Understand that your story, your wounds, your successes, your failures, and your accomplishments make you unique. All of that is going to be valuable to the right board. So never try to twist yourself into something or someone you are not, to try to fit, to try to artificially click with the opportunity. There are boards out there who want you just because of who you are and your unique story and journey. So, be yourself.