My Career Path: Interview with Christine Heckart, Board Member
November 23, 2021
Posted by:

Selen Warner

Category:

Blog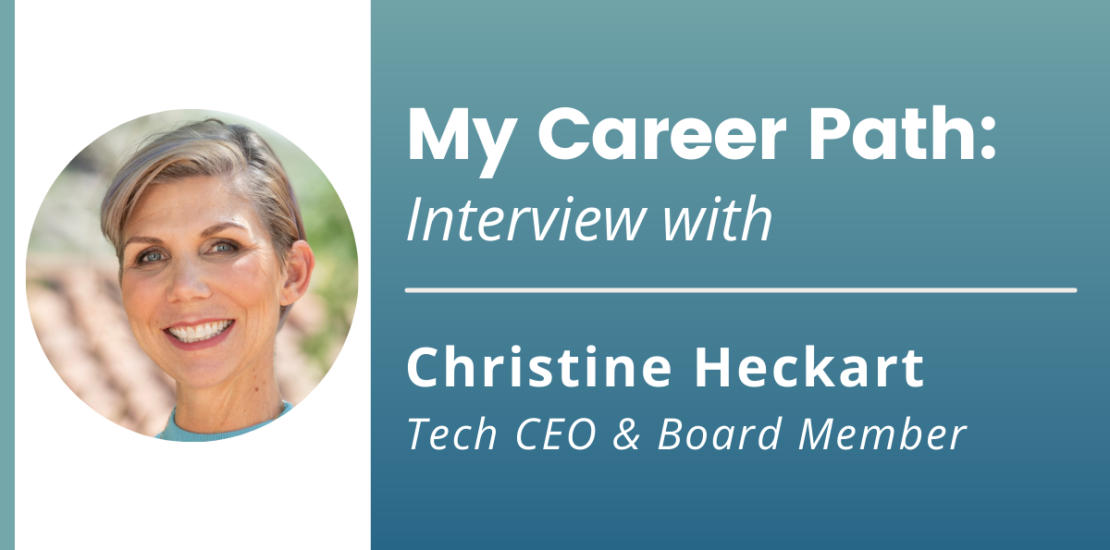 This month, we had the pleasure of speaking with Christine Heckart, technology industry executive and board member, about her career path and decisions that have contributed to her success. Here at Stage 4 Solutions, we are committed to supporting professionals' career growth, and we believe that one way to enable success is learning from leaders.
Christine Heckart is a transformational executive with over 25 years of experience as a CEO, COO, GM and CMO at Fortune 500 companies and fast-growing companies, and as board member of both public and private boards. Recently named one of the Fifty Most Powerful Women in Technology by the National Diversity Council and a Woman of Influence by Silicon Valley Business Journal, her passion is helping people and companies achieve more than they thought possible.
First, a bit of background to give you a sense of the path she has followed before we dive into questions. Christine grew up on a farm in Brighton, Colorado. She was a latch-key kid who, along with her younger brother, had to figure out how to entertain herself after school when there were no friends nearby. In one case, she built an astronaut training facility in her front yard to kill time. It had the added advantage of attracting kids from miles around. As a teenager, she pumped gas at the family-owned gas station. Those experiences shaped her work ethic and left her with one clear goal: she never wanted to be a small business owner. While she didn't know what she wanted to do during college, she knew she wanted to work at a large company and make decisions that would affect the course of the company.
By sheer accident, she made her single most important career decision just as she graduated college. She agreed to marry her high school sweetheart, even though it meant moving with him to Tulsa, Ok. "Who you marry sets the parameters for your career. If you marry someone supportive, as I did, you've cleared the biggest hurdle to success." She began her career in new product development at Wiltel, a telecom service provider. Eventually, because of that experience, she and her family — which now included three young children — moved to Silicon Valley to become CMO of Juniper Networks. Christine says it was one of the best career decisions of her life and credits Scott Kriens with making it possible. After that, she held various roles, such as General Manager at Microsoft, CMO at NetApp, SVP at Cisco and CEO of Scalyr (acquired by SentinelOne). In 2011, she got the opportunity to join her first public board, LAM Research, and sat on that board for almost 9 years. She now sits on the SiTime board, and on several private boards. "I'm incredibly grateful for all the people who have supported me and given me the chance to do something for the first time, be that a CMO, public board, or CEO position. Everyone needs sponsorship, and we all need to reach a hand down to help others take a step up."
When asked how she assesses new career opportunities, she said the opposite of what we hear from most people. "In really big decisions, I don't worry about the data, I trust my gut. My gut is generally drawn to opportunities in which there's a chance to learn something new, do or create something 'impossible', and work with amazing people."
As for the career advice she would give to others, especially younger professionals: "The most important thing (after who you marry), is to pick the right industry. Industry is more important than company or position. You can change companies and positions, but it's much harder to change industries."
Of course, we wanted to know the advice she would give her younger self. "I'd tell my younger self the same thing I tell my current self, which is to not take myself or life quite so seriously. Laugh more, especially at one's own self, and especially in the times of peak embarrassment or screw up. It's a really hard thing to do, at least for me. Fortunately, my family finds it incredibly easy, and I'm an endless source of entertainment for them. So that helps me learn."
Christine never seems satisfied with achieving a goal once she sets it. She feels happy and proud, but then reaches for the next goal. Her analogy was as follows: "You don't always know what's possible until you achieve something; in fact, you might not even be able to see very far or high. But once you climb a small hill, you can see the next one. And from each successive peak, there's a higher one visible in the distance."
She knew she wanted to be a CEO for many years, but was frustrated she never got those calls. Especially prior to the 'me too' movement, many women in tech faced gender bias, and it still lurks today. "I was incredibly fortunate to meet a recruiter named Pete Steinle who was willing to put me into the consideration set for a CEO role at a start up, and even more fortunate that Jason Pressman and Steve Newman were willing to give me a shot at being a first-time CEO." Given the success of the exit at Scalyr, the bet appears to have paid off for all concerned.
We wanted to know Christine's advice for women leaders to navigate their way to serving on corporate boards. She emphasized the importance of preparation and learning. "I made every mistake in the book my first three years, and invented a few new ones too. I didn't understand the difference between operating and governance in terms of how to ask questions, probe, or simply shut up and listen. I was too curious, too eager to 'add value', and not seasoned in my approach. I was incredibly lucky to have some fabulous, and very patient, board mentors on the LAM Board, and thanks to them, I can say I'm a much more sophisticated board member today." She emphasized the importance of going through training upfront, having a board mentor, being prepared and reading all the material, building relationships with the other board members, and perpetually investing in your own board educating. "I'm still learning, in fact, every really good board member is always learning. Cathy Lego and Abhi Talwalker taught me that."
We always ask every leader we interview, how they balance professional and personal goals, and have heard so many different answers. Christine has a unique way of describing balance. "I truly hate that question. For me, "balance" means that I have the time, space and flexibility to do what most needs to be done, at the moment it needs to be done." Very often that means work takes priority over parent-teacher meetings (which she rarely attended), school functions, or even birthday dinners. "We rescheduled a lot of birthday celebrations to the weekends." When there was an important event or school play, she would make sure she was there. "I feel like I have the power to be where I'm most needed, and that, for me, is balance. I work long hours, but I generally enjoy it, and I also enjoy time with the family. Most importantly, I always try to prioritize my own sleep. That makes it easier to do everything else."
Prioritizing sleep? You don't hear that often from executives, especially in the tech industry. This seems like wise advice that would benefit anyone, in any position.
We learned so much from our conversation with Christine and hope that her story and insights will be useful as career paths are managed and navigated.