My Career Path: Interview with Carmen Villar, VP at Merck
July 29, 2021
Posted by:

Selen Warner

Category:

Blog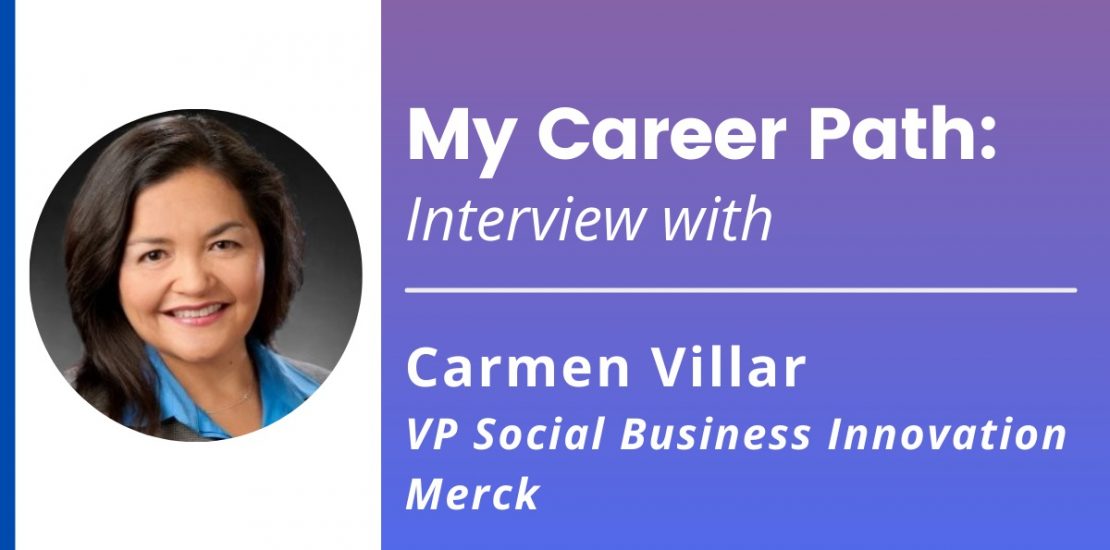 In July, we had the pleasure to have a conversation with Carmen Villar, Vice President of Social Business Innovation at Merck & Co., Inc., about her career path and decisions she made to achieve her success. Here at Stage 4 Solutions, we support professionals' career growth, and one way to enable success is to learn from others. We have much to learn from Carmen, a female leader of mixed race (Mexican and Japanese) with a passion for supporting public health. In her current role, Carmen oversees the Merck Foundation and charitable contributions, the Enterprise Health Equity team, including Merck for Mothers, and the ESG Strategy and Engagement team, with a vision to enhance shared value across the company. Prior to joining Merck in 2017, Carmen held roles at CDC for over 20 years.
Feel free to reach out to Carmen with your questions and thoughts: connect with Carmen on LinkedIn
When you were in college, what were your career aspirations?
Carmen Villar: I didn't really know what I exactly wanted to do when I was in college. I majored in anthropology and minored in ethnic studies. Working on an archeological dig in Northern California, I was fascinated by studying and learning about past cultures, health and medicine. I have always had an interest in "people" and how communities work to take care of each other. I think deep down, I knew I wanted to do something for the greater good of people.
How did you begin your career?
Carmen Villar: Back in 1992, I started working for the state legislature in California. Then, I joined a non-profit organization that worked on HIV policy at the state level. I loved these experiences. After a few years, I started thinking about obtaining a master's degree, and pursued a master's degree in social welfare.
While in graduate school, I trained in both hospital social work and grief counseling, visiting hospice patients in San Francisco. I was supporting individuals with AIDS and their families to bring them together to plan and say goodbyes in the time they had left. I learned so much about human nature and relationships.
This experience taught me a great deal about the clinical side of health care, but I wasn't sure if the clinical aspect was what I wanted to do, so I started interviewing for a few jobs. I ended up getting a job as a Presidential Management Fellow at the Centers for Disease Control and Prevention (CDC) focused on HIV policy.
Can you tell us more about your roles at CDC?
Carmen Villar: I worked at several different offices within the US public health agency for over 20 years, and the highlight of my career at CDC is my time in Zambia and Nigeria, working with the inter-agency team to fight HIV/AIDS under the President's Emergency Plan for AIDS Relief (PEPFAR). It was amazing to be a part of the large effort the United States was making in people's lives, by collaborating with local governments and non-governmental organizations (NGOs) and witness cultural and structural differences between multiple cultures, tribes, and countries.
After President Obama was elected, I received a call asking if I would be interested in the Chief of Staff position at CDC. I met the new CDC Director for an interview the day after the Haiti earthquake, and I distinctly recall that our conversation was about the job opportunity but also about our feelings of loss for both the people of Haiti and our public health communities. Soon after, I started my new role within CDC as the Chief of Staff. In this position, I had the benefit of working across the agency at all levels and equally, across all of government, including the legislative and legal branches. I had had a lot of experience in infectious disease prevention and control, but then I expanded my knowledge base into areas like injury prevention, chronic disease prevention and birth defects. Ultimately, I had a very fulfilling role at CDC, advancing the health and wellness of people all over the world.
What made you decide to move from CDC to Merck?
Carmen Villar: After my extensive experience at CDC, I started thinking, "What else am I going to do here?". Talking with people outside of the government, I heard critical feedback that I had a focused government experience and not a diverse career experience. I decided to look into different sectors and ended up at Merck. Being involved in public and community service was something I would not be willing to give up, and Merck's core mission is about helping to make lives better with its commitment to the development of medicines and vaccines, so it was a great match. I would also have the opportunity to appreciate the private sector's unique role in supporting public health. I have been able to tap into Merck's expertise and resources and still enable social betterment and, at the same time, create a positive business impact.
How do you define your role as VP of Social Business Innovation?
Carmen Villar: As the Vice President of Social Business Innovation at Merck, I manage a few teams: the Merck Foundation and charitable contributions, the Enterprise Health Equity team, including Merck for Mothers, and the ESG Strategy and Engagement team. Our main objective is to foster social business innovation within the company to create both social and business impact. As a team, we help the company think innovatively about the support needed by patients who may want or need our products, more consistently give back to communities most in need, and emphasize what responsible behavior looks like across Merck. When I first joined Merck, it took a little bit of time to create the vision and implement it, but we are there now, and it is exciting to see the progress.
What surprised you the most in your role as a VP Social Business Innovation?
Carmen Villar: The business of the pharma industry. We take big risks in investing in scientific innovation and invention in a highly competitive industry. This process can be costly, with investments ranging from human resources to clinical and scientific research efforts. The companies make these investments without always realizing success. People usually don't realize what it takes for a quality medicine to get to the public. Merck is committed to scientific inventions. We need to continuously innovate in this industry and ensure cutting-edge science advances medical care.
What is one of the biggest challenges you have faced in your career and how did you overcome it?
Carmen Villar: I can name a lot of challenges, whether I was making the right move, taking the right job, how moving to Africa would affect my career, and many more. Out of all, I think the hardest one for me, as a woman, was to know when to start a family and how that piece would fit into my professional development.
When I was about to get a promotion at CDC, I said something like, "Oh, starting a family will need to wait for a while," because I would have increased responsibilities. My manager said that I needed to do whatever I needed to do for my personal life and not only focus on my career growth – my manager was a man. I thought how amazing it was to have this kind of support in my workplace! It didn't come easy, and we didn't start a family immediately. Balancing family life and career is challenging. You don't realize how challenging it can be unless you start a family. A lot of young women ask for my advice. I always say that you can do both but acknowledge that it is hard and it is ok to ask for help. As women, we don't ask for help easily – I think it's our nature as we tend to be more on the caregiving side. With the support of my family, close friends, and employer, I got through it. We all can, if we help each other.
How do you balance your professional and personal goals?
Carmen Villar: Asking for help and taking risks. I have wonderful parents who have always told me that it's ok to take risks and that even if I don't succeed, they would always be there for me. Throughout my life, especially in the early stages of my career, when I needed to move to another state for a job, I knew I could always "go back home." That security is so crucial and helped me feel more comfortable taking risks. When I had the opportunity to move to Zambia, I asked my husband, "Do you want to go to Zambia?" and he just said, "Yes, let's do it!." I am very lucky that I have had his support too. With family support, I have been able to find balance, but sometimes we have to ask for that help and I realize that is not easy. We have to, however, because, as we all know, life can be difficult, and a support system is necessary. I also learned to protect my "own" time because you don't ever get that time back.
What advice would you give to women and people of color?
Carmen Villar: Especially to women of color in the private sector, you don't often see yourself in the room. My advice is to bring your authentic self to work. The more we are able to do this, the more the workplace will become equitable, and all perspectives will be shared and accepted. The ultimate result of better representation across a company ensures the inclusion of diverse opinions. This diversity of thought helps us serve a wide array of patients, providers and communities.
What advice do you have for empowering teams?
Carmen Villar: My advice for team leaders is to be transparent and provide honest feedback. One of the worst things we do is making teams and individuals believe everything is great when things aren't going that well. When something goes wrong, we need to give feedback and help team members improve. As leaders, we should want our team members to be successful. Also, you will never have one person with every skillset, so having different people with diverse backgrounds and skills is key to success. Bringing out the best in each individual is the only way the team succeeds.
Feel free to reach out to Carmen with your questions and thoughts: connect with Carmen on LinkedIn