My Career Path: Interview with Betsy Gutierrez, VP of Quality, Rani Therapeutics
November 28, 2022
Posted by:

Selen Warner

Category:

Blog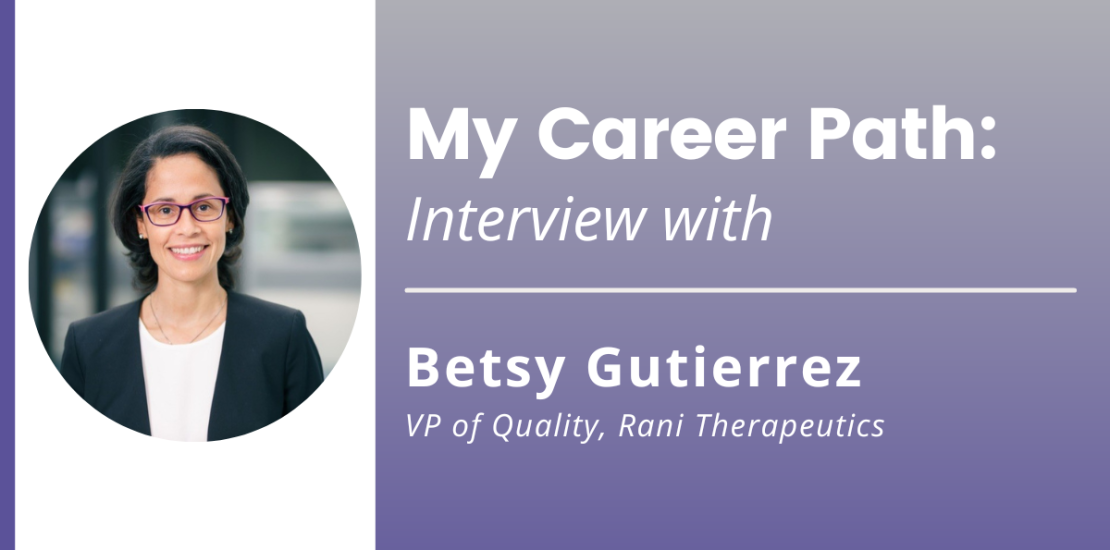 This month, we had the pleasure of speaking with Betsy Gutierrez, Vice President of Quality, Rani Therapeutics, about her career path and the decisions that have contributed to her success. Here at Stage 4 Solutions, we are committed to supporting professionals' career growth, and we believe that one way to enable success is by learning from leaders.
Betsy has over 22 years of experience in areas of Quality Systems, Regulatory Compliance and Engineering in large life science organizations as well as in start-up environments. Prior to joining Rani, Betsy served as the Sr. Director of Quality and Regulatory Affairs at Oraya Therapeutics. Previously, Betsy held leadership roles of increasing responsibilities at Auxogy Inc., LuMend (a J&J company) and Edwards Lifesciences. She has extensive experience in managing all aspects of the Quality Management Systems, Quality Engineering, Regulatory Compliance and Product Development support under US (FDA) and International (ISO) Regulations. Betsy holds an M.B.A. and a B.S in Industrial Engineering from Pontificia Universidad Catolica Madre y Maestra in the Dominican Republic.
Feel free to: connect with Betsy
Can you tell us about your upbringing? Who were your role models?
Betsy: I grew up in the Dominican Republic, in a big family. I am the youngest of 6 siblings, and the only one who had the opportunity to go to college and obtain a degree. By the time I finished high school, all my siblings were already working and contributing to the family funds. Rather than going straight to work, they encouraged me to focus on education. Their support, along with my father's financial support, allowed me to go to college and obtain a degree in industrial engineering.
Since childhood, my mom has remained my primary role model. She was a single mother and fully dedicated to us. As a single mother fully dedicated to her children, she worked very hard to provide the best she could, all while modeling strength of character, honesty, hard work and the strong family values that have transpired throughout my whole life.
Being the first person in your family to go to college, what drove you to pursue a bachelor's degree?
Betsy: I always wanted to be an engineer, so by default, that was going to require a bachelor's degree. I was good at math and I liked the idea of building things. Ever since I was a teenager, I've been fascinated by industries with complex processes, where every single step is required to be evaluated and improved to be able to produce a product or service with the highest quality and productivity. This fascination led me to go to pursue an education in industrial engineering.
When you were in college, what were your career inspirations?
Betsy: In Dominican Republic, there are many American owned manufacturing facilities. When I was in college, most of them were textile companies, but they did not pique my interest. Rather, I wanted to work in a technologically driven industry and use my knowledge and skill sets to do something meaningful.
How did you decide on your first job?
Betsy: As a prerequisite for graduation, I needed to complete an internship and had the opportunity to intern at a US-based company that had a manufacturing facility in the Dominican Republic.
As an intern, I was working as a process engineer, doing time studies, process analysis and implementing process improvements. The work I did was so well received that the company decided to offer me a full-time position upon completion of my internship. That's how I started my first job.
Can you tell us about your current role at Rani Therapeutics?
Betsy: I am the VP of Quality at Rani Therapeutics. I have been leading the quality organization for over 6 years now. My core responsibility is to introduce and lead transformational efforts to improve product quality and ensure compliance with regulatory requirements. I spearhead Rani's overall quality management program, including implementation and maintenance of the company's quality management system that supports all aspects of the company such as product development, manufacturing, product testing, supplier management, product release and the future commercialization of the first product to orally deliver biologics, the RaniPill Capsule.
How did you decide to join Rani Therapeutics?
Betsy: I always say it was meant to be. I was approached by two different coworkers from two different companies about this opportunity. I started researching the company, the people who work at the company, the CEO, the management team, the technology and its potential, and of course, the product. I was very impressed with what I had researched, so I decided to visit the company's office, where I found myself having a conversation with the founder and CEO, Mir Imran. It was easy to make my decision to join the company thereafter. I like Rani because of what we do here and the amazing team of professionals who share one common goal; to improve the lives of millions of people with chronic conditions.
The RaniPill capsule is expected to replace painful subcutaneous injections, especially for patients that require such injections to treat their illnesses. The RaniPill capsule is a combination device that uses both a pharmacological drug and an innovative device to administer a medication painlessly. It is taken by mouth, travels to the small intestine, and injects the wall of the small intestine with said drug. Because the small intestine lacks sharp pain receptors, the injection is painless. Millions of patients with chronic conditions depend on medications that, until today, can only be administered via painful injections. The future of Rani Therapeutics is to replace subcutaneous injections with an oral pill, an idea that our team works tireless to make a reality.
As you progressed through your career, how did you assess new opportunities?
Betsy: There are a few factors I normally consider when I explore a new opportunity. Most of all, I need to believe in the potential success of the company. I research the technology, the market share, or the potential market share. I do this because I want to invest my time and effort in something I believe will be successful and that will make a positive impact on people's lives. Another important aspect is the company culture and work environment. How passionate are the employees who work there? Does the company care about the well-being of the employees? That is very important to me. I believe it is essential to assess such factors so that we can better enjoy the work we do.
What has surprised you the most in your career?
Betsy: When I first started working at a life science company, I really did not know what to expect from being in this industry. I didn't have much clarity on what my role would be; it was just a new job that sounded interesting to me. I was very young! Well, what was presented to me as simply new job at an interesting company became my career. Once I started learning more about the work I was doing, I loved it. I was too naïve at the time to realize how blessed I was to have been presented with the opportunity to enter the amazing world of med-tech/biotech, where I work doing what I love while making a positive impact on patients' live. The ability to combine my engineering background with my desire to help others in the work I do every day has been both a blessing and a positive surprise.
Can you tell us about an important career risk you took?
Betsy: In 2006, I moved to the US after accepting a job opportunity at J&J. However, I needed to leave my secure job at Edwards Lifesciences, a US-based medical device company that had a manufacturing facility in the Dominican Republic. Edwards is a great well-established company, where I learned a lot. My future at Edwards was promising. I had been appointed as one of the key talents at the company and was moving up the company ladder. Risking it all, I decided to accept another job opportunity and move to the Bay Area. This was not just a simple move. I was leaving my family, losing job security, and starting all over at a new company in a new country. It was a great risk, but it was worth it because now I have a great career in the US.
What is one of the biggest challenges you have faced in your career, and how did you overcome it?
Betsy: Back in 2010, I accepted a role as the head of quality at a startup, with the responsibility of implementing from scratch the quality management system to support the development, clinical, manufacturing, and the commercial approval of a novel medical device in the US and Europe. Although I had many years of experience in quality, that would be the first time I'd be responsible for the end-to-end development and implementation of the entire quality management system.
When I joined this company, there were 10 employees and a preliminary idea of the product. I needed to build a strategic team that would assist me in developing and employing the quality management system. Not only did I succeed in that, but I also led the company through successful FDA and ISO inspections, enabling the commercialization of the product in the US and Europe.
How do you balance your professional and personal goals?
Betsy: I am grateful that I have been able to balance my career and my family, thanks to the partnership my husband and I have. I won't deny there are challenges in having a demanding job, while at the same time being a mother and a wife. But it's definitely possible. For example, one thing that I always do, regardless of how busy work is, is I make a conscious effort to make myself available for all important family events, such as birthdays, school events, and of course, fun vacations. It is a balancing skill that I practice every day. I cannot just be a professional for a week, and then a mother for the following week. It has to happen simultaneously every day and it takes effort to make it happen.
What advice would you give to your younger self? Younger professionals?
Betsy: Do something you enjoy and be good at it. The reality is that no matter what you do career-wise, there will be challenges and it will be very difficult to find the strength in yourself to overcome those challenges if you don't believe in or enjoy what you are doing. So, try to do something you like.
Pursue your dreams. Work hard to achieve your goals and don't give up when things are not the way you expected them to be. Keep trying and be persistent. Great inventions or breakthroughs in any industry don't happen overnight. There is a lot of work that needs to happen.
Don't stop learning.
Find a mentor. Find someone you can consult when important decisions need to be made. Sometimes, we focus so much on our day-to-day that we see challenges as dead-ends. Somebody with more experience and an admirable character can help bring different perspectives to challenges and help you make desirable decisions.