Interview with Pooja Kapoor, Chief of Staff, McAfee
April 29, 2021
Posted by:

Selen Warner

Category:

Blog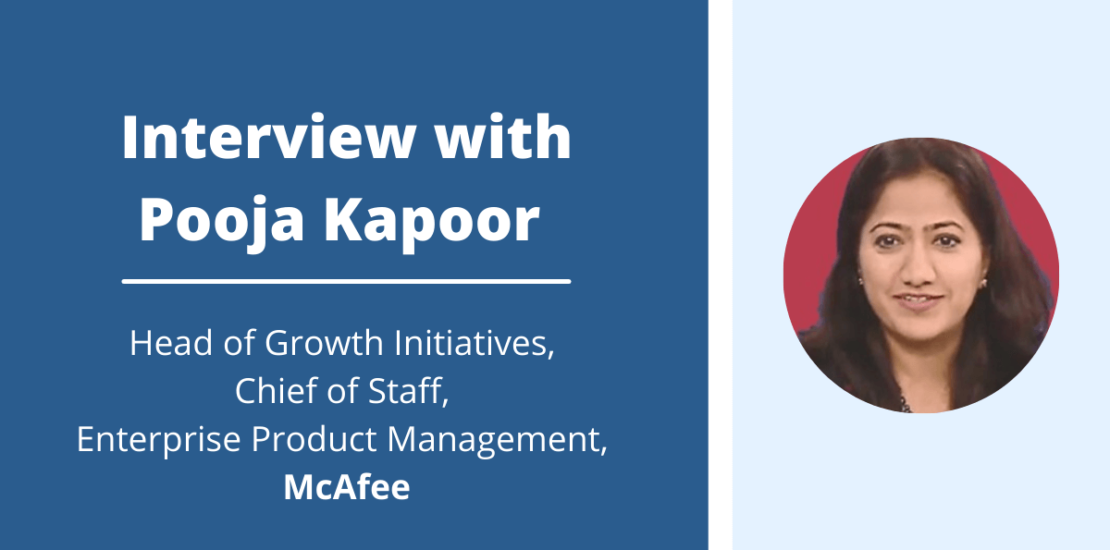 Two of our core values at Stage 4 Solutions are to accelerate careers of professionals and enhance the diversity of our client teams. This month, we decided to combine these 2 values and profile the career journey of a successful, diverse high technology leader. We can learn from her career choices and gain inspiration from how obstacles were surmounted.
In March, during Women's History Month, we had the pleasure to interview Pooja Kapoor, Head of Growth Initiatives, Chief of Staff, Enterprise Product Management at McAfee, about her career path and the decisions she made to achieve her current role.
After graduating with Bachelor's Degree in Physics from Delhi University in India, Pooja decided to earn a Master's Degree in Computer Science. Soon afterward, she joined Publicis Sapient, a global consulting firm, leading customer success teams, and later was promoted to be a customer engagement manager specializing in delivering End to End Customer Experiences (CX). After 9 years at Publicis Sapient, she joined Cisco in their WebEx team to manage Product Operations and lead some key product launches. Then, she moved into Security Product Management as part of Cisco's transformation office to drive Cisco's transition to subscription and service-based products, marketing and customer experience models. After 8 years at Cisco, she embraced a bold move and joined McAfee as the Head of Growth Initiatives and Chief of Staff to the Product Leader.
Feel free to reach out to Pooja with your questions and thoughts: connect with Pooja on LinkedIn
When you were in college, what were your career aspirations?
Pooja Kapoor: Growing something "new" has always excited me. Building new products, teams or processes, taking full ownership of an initiative and experiencing the impact as a whole has been my passion. While I was at Delhi University in India, I created the first Physics Festival, an intercollege competition at the University and took this initiative from an idea to fruition and it felt great! And, I knew I wanted a career where I could "build" bringing together people and ideas. I didn't know how that would translate into a job, but I knew that is what I wanted to spend my time on.
Why did you join Publicis Sapient?
Pooja Kapoor: Sapient was a new company in Delhi, India looking to expand their footprint and I saw this as an opportunity to be part of something from its inception. The company was a thought leader in building customer experiences through technology and I particularly found it fascinating, engaging with customers and helping them deliver best-in-class experiences for their end-users. The Sapient India office was in close proximity to where I lived, only 4 miles away, which was a nice perk but didn't last long since I moved to the US with Sapient, making it 8000 miles away from home!
What made you decide to move from Publicis Sapient to Cisco?
Pooja Kapoor: At Sapient, Cisco was one of my accounts in the Northern California region and while working with Cisco's WebEx product management and GTM leaders, I got interested in the product management discipline. My 9 years at Sapient were enriching and rewarding, and the business case of venturing into product management totally aligned with my passion of "building something new" to solve customer's problems in a meaningful way.
What attracted you initially, to the Head of Growth Initiatives, Chief of Staff opportunity at McAfee? How did you evaluate it?
Pooja Kapoor: I had been thinking about what an ideal job would be for me, what I really liked doing, and what I was good at and started putting together the pieces in my head: domain, role and people. I think Customer First and tend to naturally break through Silos in organizations. While I enjoy looking at the big picture and take a strategic view, I have a strong bias for action too. I also wanted the ability to influence the culture of a team. I wanted to make a positive impact on people's lives. This now started to feel broader than what a product manager would do. But this newly formed role exactly matched my "ideal" role definition. So, when a former colleague from Cisco reached out to me about the new role at McAfee, I wanted to learn more and based on what I learned, it was a close match to my "ideal" role definition.
What did you think about Chief of Staff part of your role before you took it?
Pooja Kapoor: There was a lot of ambiguity about the Chief of Staff role – there was so much unclear information out there… One concern I had was around where it fell on the strategic and operational spectrum. It's not a pure strategy role, neither it is completely tactical but a blend of many areas, almost like a general management role. The other concern was around measuring the success of a Chief of Staff. However, the role did offer the creativity of being designed in a way that it can have a significant impact and I was glad to have the open dialog with McAfee.
What surprised you the most in the Chief of Staff part of your role?
Pooja Kapoor: As a Chief of Staff, you need to feel like you work for the betterment of the entire organization, rather than just one leader. This role has already opened and can open so many more paths.
What is one of the biggest challenges you have faced in your career and how did you overcome it?
Pooja Kapoor: Balancing likability and competency. It's important to be a confident expert in your area of competency but not be perceived as aggressive and therefore less likable. However, too much focus on likability runs the risk of being pushed beyond your boundaries. This challenge is a hard one to solve, but being authentic has helped me. Once people trust me, it's easier to be firm and be liked.
When I like someone at work, I find myself going above and beyond working with that individual (irrespective of gender) and would imagine the reverse to be true as well. If team members working with me, like me, they would give their best. It's about practicing and preaching the same behaviors. And then, it's also my "Good Karma" philosophy.
You have an amazing career and 2 amazing girls! How do you balance your professional and personal goals?
Pooja Kapoor: It about constantly making choices and knowing yourself well. It's good to set goals but be open to continuously learning, introspecting and recalibrating when things do not go as planned. I had to pace career moves to balance family needs and make personal sacrifices to meet professional goals. My parents have always taught me to act with the right intentions for the right outcomes to follow and this has been a guiding light for me.
What advice would you give to your younger self?
Pooja Kapoor: Avoid over-analyzing situations. Sometimes it is better to just jump in and trust your instincts – start taking action. Look for, and be appreciative of environments that accept you as who you are.
Feel free to reach out to Pooja with your questions and thoughts: connect with Pooja on LinkedIn