Interview with Aygun Suleymanova, VP Marketing, SetSail
May 27, 2021
Posted by:

Selen Warner

Category:

Blog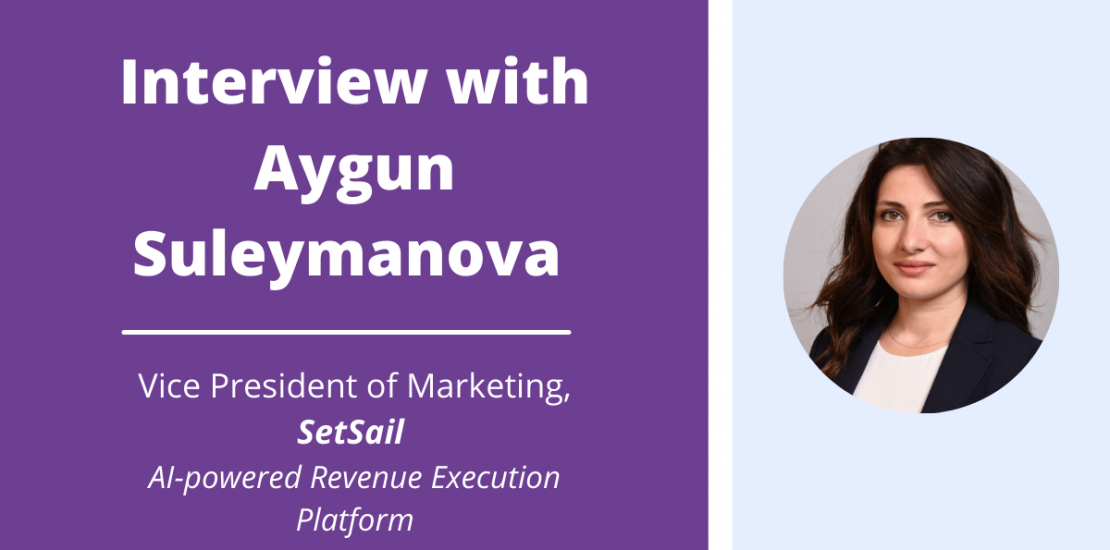 Two of our core values at Stage 4 Solutions are to accelerate careers of professionals and enhance the diversity of our client teams. Combining these 2 values, we started an interview series to feature the career journeys of successful, diverse leaders.
This month, we had the pleasure to interview Aygun Suleymanova, VP Marketing, SetSail, AI-powered Revenue Execution Platform, about her career path and the decisions she made to achieve her current role. We can learn from her career choices and gain inspiration from how obstacles were surmounted.
After graduating with Bachelor's Degree in Applied Linguistics from Azerbaijan State University of Languages, Aygun decided to earn a Master's Degree in English and American Literature. During this time, she joined Azercell, a telecommunications company in their communications team. Her interest and passion for technology had paved the way for her move to the US to obtain an MBA and pursue a career in high-tech. Over the years, she held several product marketing roles at ProcessMap, Kony Solutions, Telerik, and Salesforce. After almost 6 years at Salesforce, leading AI Product Marketing, she joined SetSail, an AI-powered platform for sales teams.
Feel free to reach out to Aygun with your questions and thoughts: connect with Aygun on LinkedIn
When you were in college, what were your career aspirations?
Aygun Suleymanova: I studied English and American literature and was interested in the journalism aspect, particularly finding and telling impactful stories. During my time in college, lots of technological advancements were happening simultaneously. I was amazed particularly about mobile phones and how they enabled connectivity around the globe – you could talk to anyone anywhere and at any time. Technology was touching and changing everyone's lives. I got very interested in being a part of this shift.
How did you begin your career?
Aygun Suleymanova: Right after college, I worked as an English teacher at a private school for 4 months. I knew that it wasn't my "dream job," and I wanted to pursue my interest of technology, specifically internet and mobile phones, and I joined a telecommunications company in their customer service department. Then, I transitioned to corporate communications and became the voice of the CEO. I enjoyed it, but I felt like something was missing. I didn't want to just "tell," but also wanted to define strategy. I wanted to understand more about why we were building all those products and who were the target audiences, and that's when I knew I wanted to shift my focus to product marketing. There are key moments in life when you feel what you really want and this was one of them. To this day, I still write down those moments and follow my passions. A few weeks ago, I found and read my statement of purpose on my MBA application. I had written that I was coming to the US to get an MBA and work as a marketing leader at a high-tech company, and today, that's exactly what I'm doing. It made me realize how important it is to aim right and work for it, and if you just do that, you can achieve anything.
What attracted you to the product marketing discipline?
Aygun Suleymanova: I landed in this discipline. I knew I wanted to be in tech marketing and although it was difficult to find a tech company in Miami, I was lucky enough to start an internship at a small tech company. Directly reporting to the CEO provided me the opportunity to observe and learn a great deal about processes. Before my internship ended, I prepared a 40 page document on strategy and process improvement and handed it over the CEO. The next day, he offered me a full time job. My role was process and strategy focused and working with the product managers and engineers, I defined who the buyers were and areas of improvements. This is how I started product marketing. As soon as I communicated my new title with my social networks, so many doors have opened. I knew product marketing was the hot topic. That's when I knew positioning yourself was at least as important as positioning a company or a product.
What surprised you the most in your career as a product marketer?
Aygun Suleymanova: Finding balance between product vs. marketing in Product Marketing. During my first years in product marketing, I believed that you had to be first a "product" person. Later I realized that you needed to be a marketing person as much as you were a product person. Retaining that curiosity for the product is a must, but at the same time, you need to be able to speak the value of the product and connect with the customer with a few words that would touch them on an emotional level. Finding the optimal balance is very important.
What made you decide to move from Salesforce to SetSail?
Aygun Suleymanova: I have always been fascinated by companies creating something new. Salesforce is a global leader in CRM and Cloud and I had the chance to develop a good understanding of the AI space during my time at Salesforce. SetSail was creating and reinventing the way we do sales through AI with cutting-edge technology and I wanted to be a part of this journey.
What is one of the biggest challenges you have faced in your career and how did you overcome it?
Aygun Suleymanova: The biggest challenge for me was accepting that being a little different was ok, even better. Coming from a very different culture, I felt like I was always different than everyone else in the room. I initially tried to over adapt to my environment, but then I realized that it was ok to bring in new perspectives and be different.
How do you balance your professional and personal goals?
Aygun Suleymanova: Work-life balance vs. work-life integration. I realized that "integration" is what matters. I don't separate life from work anymore and do both at the same time with clear boundaries. I plan my days almost as if I am designing a project plan. I learned when to take a day off of everything, switch off and recharge.
What advice would you give to your younger self?
Aygun Suleymanova: Be brave. I have been brought up in a culture where speaking up for a woman is not well received. You need to be nice, aggregable and suppress opinions. My advice would be to be a little more brave and courageous and speak up when everyone needs you to.
Feel free to reach out to Aygun with your questions and thoughts: connect with Aygun on LinkedIn