Influential Discussion with Diverse Women in VC
February 25, 2021
Posted by:

Niti Agrawal

Category:

Blog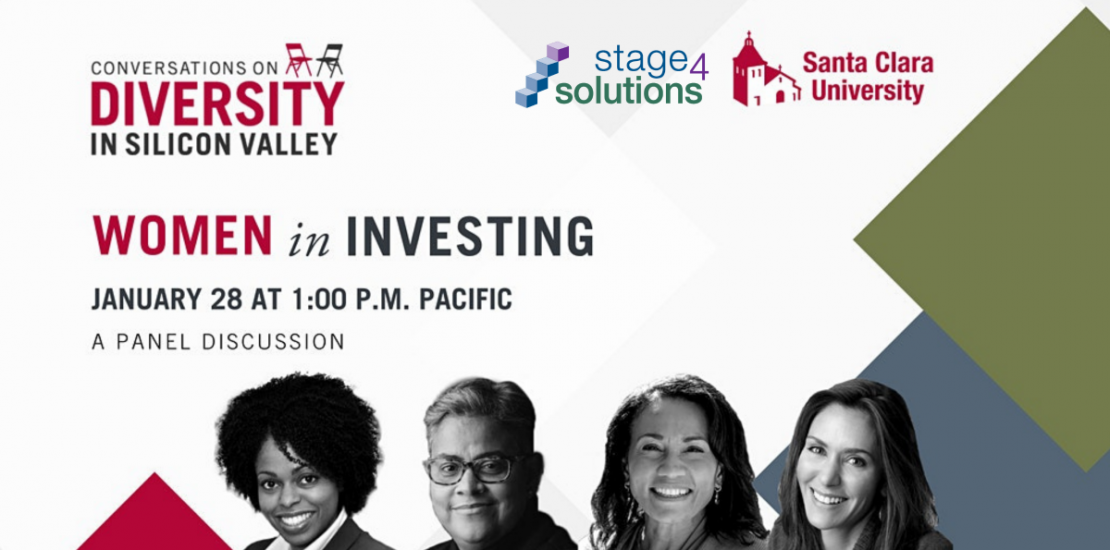 The Women in Investing webinar, Stage 4 Solutions co-sponsored with Santa Clara University's Silicon Valley Executive Center, was held on January 28, 2021, with a panel discussion moderated by Monique Aiken – Managing Director, The Investment Integration Project (helps investors manage systemic and environmental risks) and panelists, Melissa Bradley – Managing Partner, 1863 Ventures (startup accelerator that helps new-majority entrepreneurs); Co-Founder, Ureeka (provides training and coaching to underrepresented entrepreneurs) , Miriam Rivera – Managing Director, Ulu Ventures (venture capital firm that focuses on diverse women and diverse founder teams), Cami Samuels – Partner, Venrock (venture capital firm investing in technology and healthcare companies). We are thrilled to continue to add value to diversity and inclusion initiatives.
These women trailblazers had to overcome "inequality" challenges to get to where they are right now. All of them went through tough upbringings, growing up with a lack of peace and prosperity, and needed to find ways to cope with gender discrimination. As advocates for diversity and inclusion, there is much to learn from their powerful and vulnerable stories.
Miriam Rivera, a woman of color, grew up in a home with domestic violence and unrest, where she received "negative messages" she needed to change later in her life. What helped her succeed in life the most is acknowledging and changing those negative messages and letting "positive" messages in, and being appreciative of them. She reprogrammed her learnings and discovered what worked for her to achieve her goals.
In her career, Miriam faced challenges "being a mom" and a successful businesswoman at the same time. For instance, she was asked to step down from a VC-backed start-up company she co-founded because she recently had a child. She turned this experience into an opportunity to help others and during her time at Google, she put a new policy in effect for her team to allow new parents to take up to six months of leave. Throughout her career, she has worked to create more inclusive environments for diverse people. She believes diversity enables businesses to be more effective and more profitable.
Melissa Bradley faced unpleasant experiences getting into the capital markets. She was declined funding because she was a black female, and she did not want that to ever happen again to other women of color. With her company, her core focus has been on making everyday finance relevant and accessible to people to help them achieve economic prosperity. Melissa serves on the boards of several companies and oftentimes, she is the only woman and black on boards.
Orphaned by the age of 13, Cami Samuels had to face life's challenges at an early age. She entered VC at the age of 28 and was the only woman at the company's management and board meetings at that time. Her biggest learning was to adjust her communication style to be heard; she calls herself a brash New Yorker. To this day, she is still working on incorporating the good about being a brash New Yorker into her communication style. She strives to understand each entrepreneur's needs and unique story and build custom approaches that rely on trust and strong relationships.
When Cami joined Venrock, she was the 1st woman in the investment team and she soon became the 1st woman partner in the history of the firm. Diversity is very important for her. Today, 30% of the investment team are women and Cami's team is 60% women.
These women got to where they are, acknowledging their unique powers, accomplishments, having confidence in themselves without being too attached to others' opinions. They embrace and use gifts that are attributed to "women," such as believing one's intuition (Cami says she realized she could even do it on Zoom! 😊). Instead of being fearful while trying to do everything "right" and being harsh on one's self, it's ok to make mistakes, learn and live life. Building relationships instead of "selling," doing what you love, inspiring and encouraging people and taking action instead of waiting can open doors to success for anyone.
If you missed this webinar, please click here to watch the recording of this powerful session.
At Stage 4 Solutions, diversity is one of our core values. 42% of our team are ethnic minorities and 52% are women. We aim to provide value to our clients and professional communities by organizing and sponsoring events that educate and inspire. Please join us in our upcoming events.