Celebrating 20 Years!
September 29, 2021
Posted by:

Niti Agrawal

Category:

Blog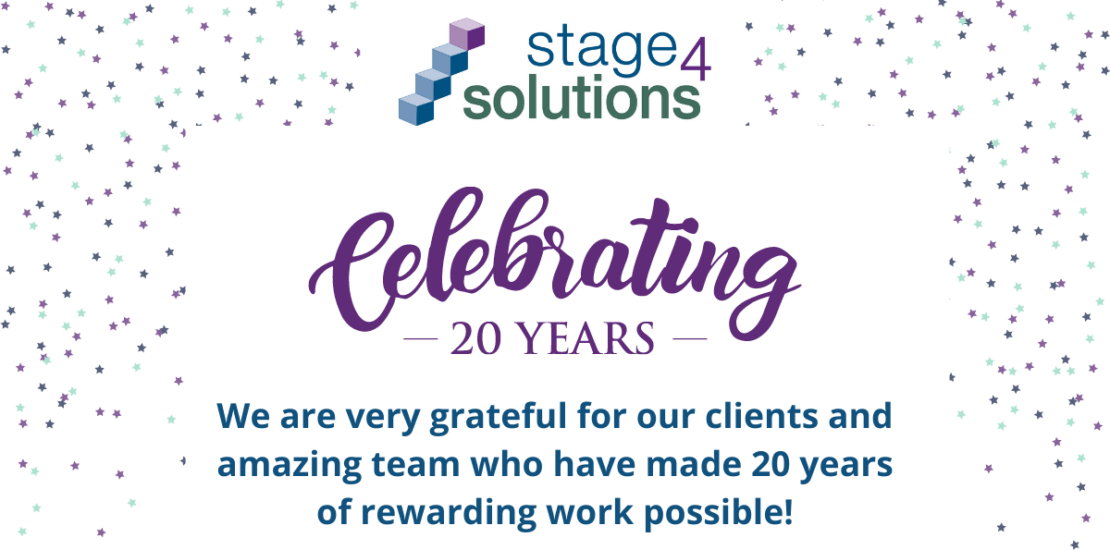 Stage 4 Solutions' 20th anniversary is a perfect moment to pause and reflect. Our beginnings were unplanned – 3 days after 9/11/2001, I resigned from my Director of Marketing role at a B2B software company and took the leap into independent consulting. I wanted to take a "break" from my career and wanted more flexibility for my then 2 and 4 year old children. I thought I would take 6 months for this break, explore new opportunities through consulting projects; then, I would get back to my career. I never expected my consulting "break" to grow into a national and international interim staffing company!
I was initially surprised by the demand for my services even in the fall of 2001 – small and large companies had a need for flexible expertise during periods of peak workload or to establish new strategies and initiatives. From this initial realization, I was able to first completely fill my time and then bring ex-colleagues and friends to work with me on client projects. Clients led the way for our growth by telling us their needs and then working with us to fulfill them. We were so fortunate to work with leading high-tech companies – both big and small – and help in their growth.
Now, 20 years later, I am so honored to see what we have achieved – Stage 4 Solutions is one of the largest women-owned and largest minority-owned businesses in Silicon Valley; we have been one of the fastest-growing private companies in Silicon Valley for 6 years; and have been on the Inc 5000 list for 4 years.
But even more than these business results, I am happy to have been very engaged in my 2 children's lives – going on field trips in elementary school; being a vocal supporter during their countless soccer, baseball, and basketball games and tennis matches; being an active marching band parent – chaperoning parades and competitions, and the list goes on! Even in those times when my children didn't want me to be so involved in their lives 😊, I was happy to be there for them. And, as my parents aged, I had the flexibility to help with medical issues, moves, and unfortunate live transitions. 20 years ago, I never thought about being a support for my parents' needs, but I feel lucky to have had the flexibility in my job to be able to be there for them, as they had been my entire life.
I am so happy that I stumbled into my career "break" and now, 20 years later, have built a company that I am proud of and a life that brings me joy.
Niti Agrawal