Job Template: PR/Analyst Relations Manager
May 17, 2022
Posted by:

Selen Warner

Category:

Job Templates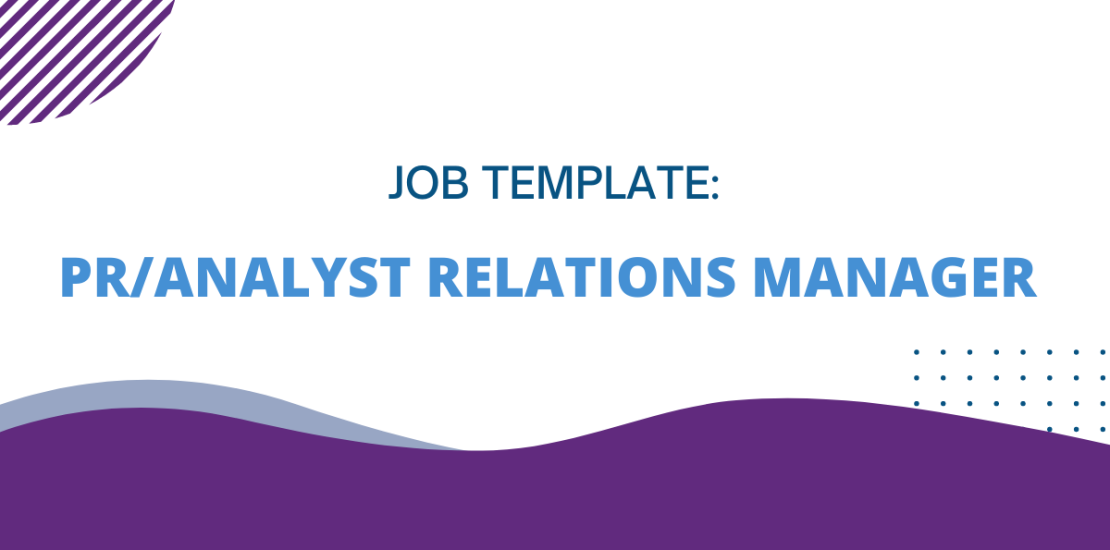 Job Title – Location: (Seniority Level) PR/Analyst Relations Manager – Location
Review of company's solutions, target markets, values, work environment and benefits offered.
The focus of this role is to define and manage both the strategic and tactical elements of the analyst relations programs and PR activities. The position will work with internal stakeholders to assure that both short and long term planning is supported, and an outside in market perspective is driven throughout the company. Additionally, this work will include managing development of analyst content and ensure it is leveraged across marketing programs.
Responsibilities:
Work with stakeholders and define analyst relations and PR program strategy
Develop relationships with selected analysts to support strategic goals by articulating the company strategies and roadmaps
Ensure that analyst content is developed for and leveraged in digital and social marketing efforts
Provide direction and content for annual analyst conference & events, strategic consulting sessions, and analyst communications
Manage scheduling of analysts' meetings
Manage multiple PR agencies; execute PR responsibilities
Aid in social media efforts to amplify coverage received from PR and analyst activities and reports
Requirements:
X years of PR/analyst relations experience in a specific industry or type of company
Experience managing PR agencies; setting PR strategies and execution
Experience working with industry analysts at Gartner, Forrester, and smaller analyst firms
Experience working and communicating closely with senior executive level teams
Bachelors degree, MBA preferred
____________________________________________________________________
Drawing from our database of job descriptions, we have created sample job description templates for marketing, technology and operations functions to help organizations attract and hire the right people to achieve goals. To review other job descriptions, please check out the job templates page.